Top 7 Action Camera Microphone Attachment of 2022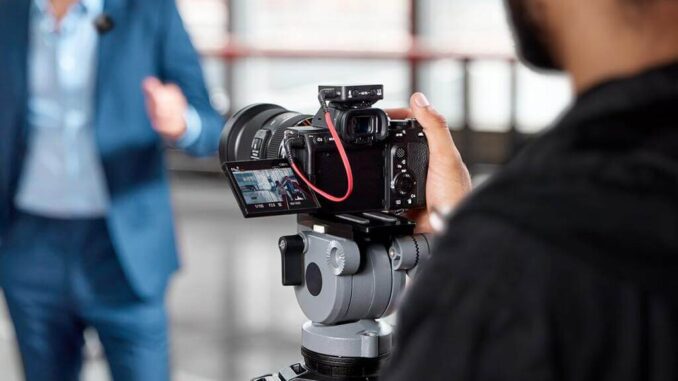 You can record good visuals in pictures and videos with a good camera. You can record and capture some high-quality photos and videos. But if your microphone is not good, the video will not be of much use despite the high quality of your video. If you are into vlogging, then a bad microphone can be the worst thing for you. 
If you are only dependent on your camera's microphone may not give you clear audio. Thus, one needs to have an action camera microphone attachment. In most cameras, you may not have a microphone input, and therefore an extension is necessary.
Good microphone attachments can reduce the wind's noise and provide clear voice recordings. So, if you are a vlogger or passionate about making videos, you need good attachments for your camera. 
When you have a good video but lack good sound quality, the purpose of making the video may not get fulfilled. By investing in good mic and microphone attachments, you can get clear audio and high-quality visuals, which will help you get the video the way you desire. 
How to Attach an External Microphone?
When you go for an action camera microphone attachment, the first problem you will face is the lack of an audio jack. Generally, you may not find the input port for the external microphones in the action cameras. So, you will need a microphone adapter if you want to use an external mic. If you want an input option, you need to get older versions of the action cameras; however, it won't suit you. 
Try to get a microphone adapter to attach the external mic so that you and your audience can enjoy good quality sound. 
7 Best Action Camera Microphone Attachments
1. DJI Mic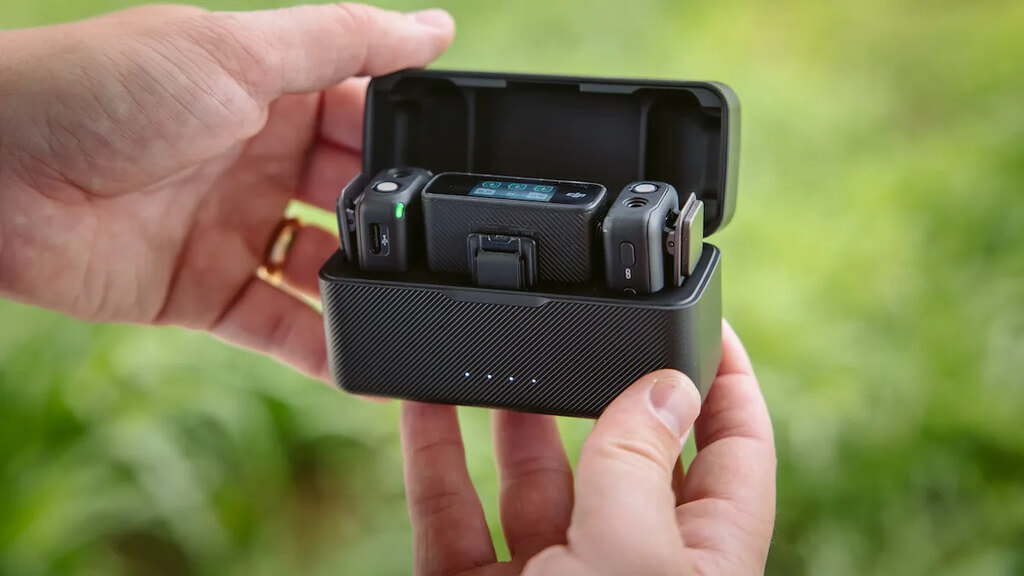 Source: adorama.com
Thanks to the cold shoe adaptor, you can use the DJI microphone with various devices, which also includes your action cam. 
It comes with 2 microphones or transmitters and a receiver. You can easily store them in a strong case. Due to this, you can easily charge and carry the units. 
You can also attach the transmitters to your clothes. It works well for shirts that aren't buttoned up or T-shirts, for example.
The battery of this mic attachment is around fifteen hours and is much more than the recording time of any other cam. It will also reduce the wind noise and provide good quality sound. 
Key Features:
Dual-channel recording

15 hours of battery life

Portable Compact

250m wireless transmission

14 hours of onboard memory
Pros
Cons
Excellent design
Case magnets seem to be a little too eager
Cost-effective
Only mono recording on iPhone
Great sound
2. Rode Wireless Go 2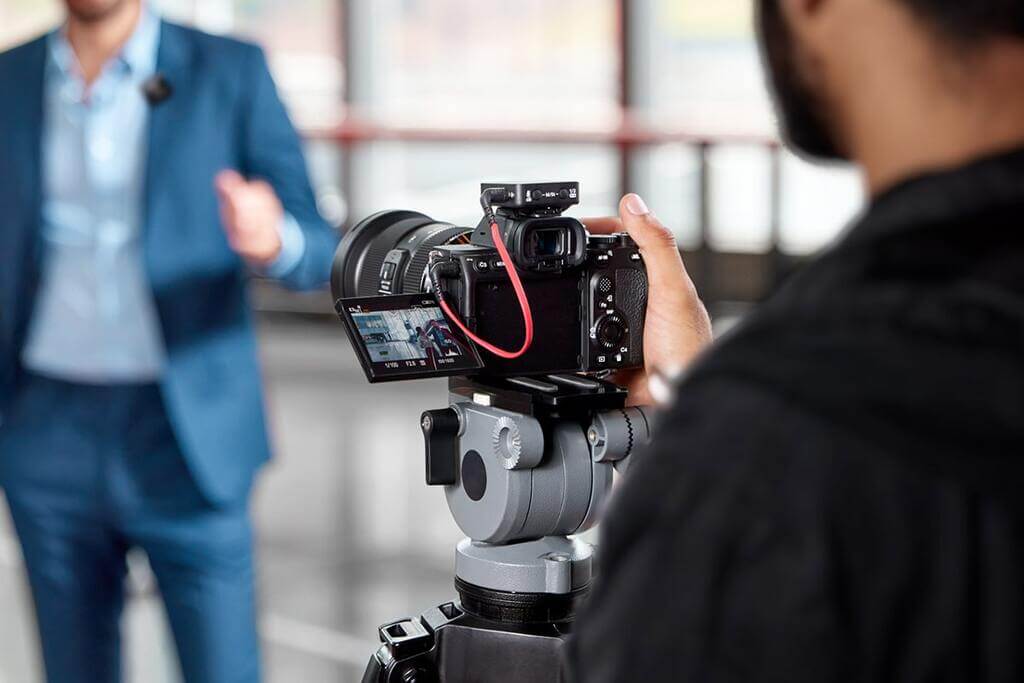 Source: manofmany.com
Almost everyone is aware of Rode, a well-known company regarding audio devices . The same goes with the Wireless Go 2 product of the company. There are 2 choices – one comes with a single transmitter, and the other is available with 2 transmitters. 
They are portable, square, and small in size. The receiver mounts on a cold or hot shoe while the transmitter is attached to the subject's clothing. There will also be the need to connect the receiver to the 3.5 input port of the chosen adapter. 
The transmission range is around 200 m, and the transmission offers onboard recording. It implies that you won't lose the audio even if the transmission fails.
The microphone uses the safety mode; it records a second audio track – 20 DB. Even if you get overexcited as you jump out of a plane, the transmitter saves your sound at a lesser volume without clipping.
The Rode also has its mobile app through which you can control the safety mode and the other features. 
Key Features:
Dual channel wireless mic

40 hours of onboard recording

Built-in lithium-ion rechargeable battery

iOS digital output, USB-C, and 3.5mm TRS analog output
Pros
Cons
A 24-bit internal recorder
Hard to replace the battery
Affordable
Gain controls are difficult to adjust
Several microphone choices, including built-in
Can access settings through the Rode app
Best in compatibility and durability
3. The Movo VXR10 Pro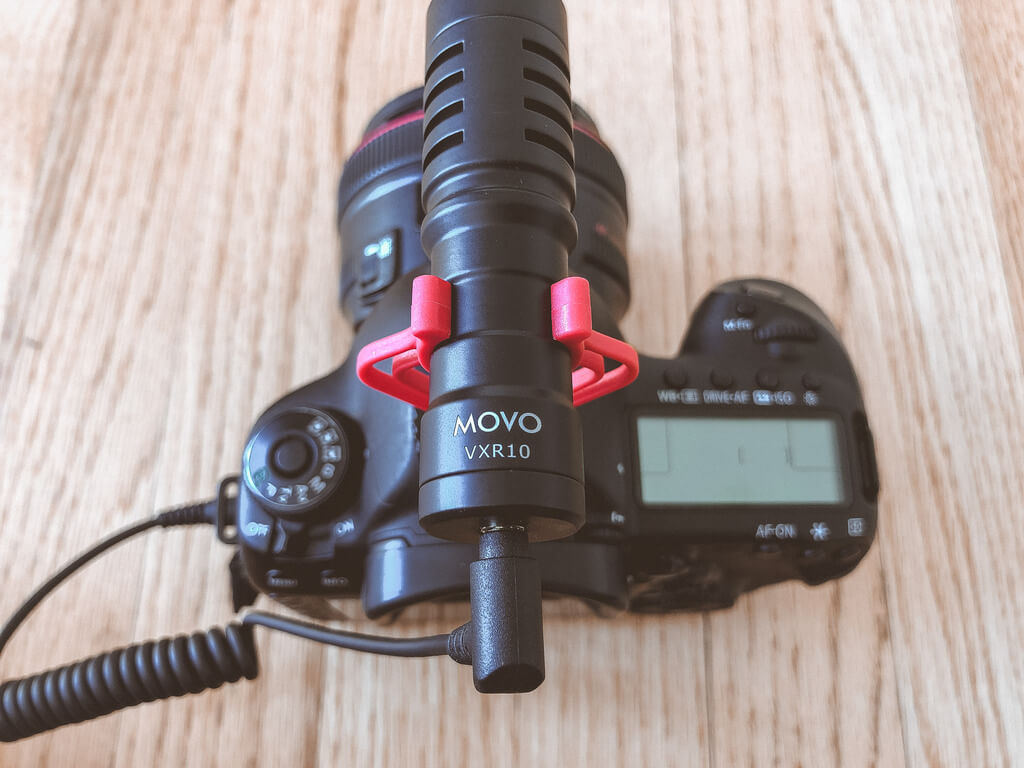 Source: twimg.com
This camera microphone attachment is   a shotgun mic with a shock mount. The microphone is available with cables that you can connect to the cam or a phone. It is also available with a travel pouch.
The mic gives a rich audio experience to the users. The limitation of this microphone is that whenever you want to record in heavy wind, the mic tends to catch the voice of the wind. So, you won't be able to capture the visuals in the bad weather. 
Major Features:
3.5mm headphone monitoring jack

Compatible with TRS TRRS devices

Can connect with devices over the TRRS port
Pros
Cons
Affordable
Mic insertion into the shock mount is challenging.
Compact
Headphone passthrough is dependent on third-party hardware.
Lightweight Excellent sound quality
4. The Sairen VM-Q1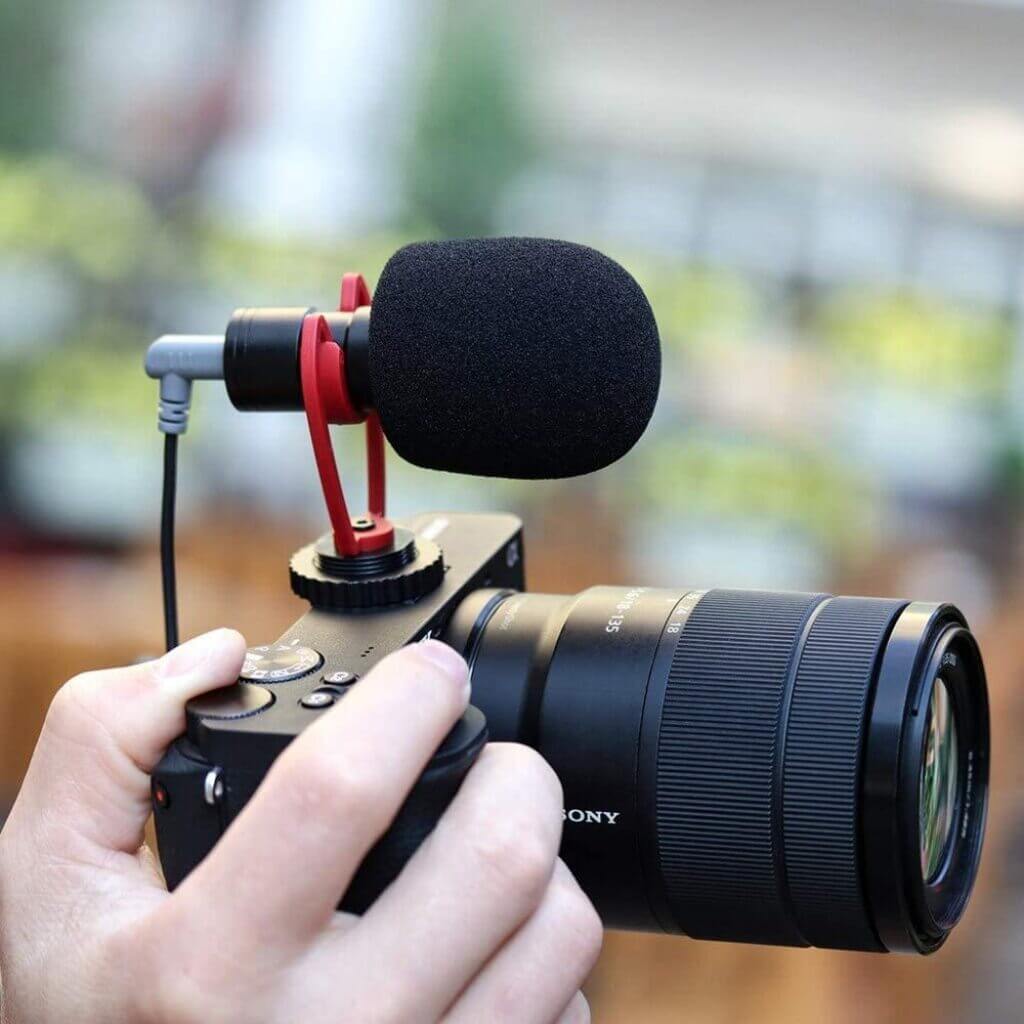 Source: amazon.com
The Sairen VM-Q1 mic is receiving many good reviews from the people who have used this. The microphone is available at an affordable price, and thus you do not need to worry when it comes to the cost of the device. It is small in size and is equipped with a shock mount. 
In terms of sound quality, it is all good, but the cables that come with the microphone create too much noise. Thus, you can upgrade the cable if you want to improve the  sound quality. 
Major Features:
Sound quality for broadcasts.

A patented shock mount reduces noise and vibrations.

Low self-noise. 

No requirement for the battery.
Pros
Cons
Clear sound Low-quality cables Noise cancellation No use of battery
5. Rode VideoMicro
Source: yimg.com
Almost everyone is aware of this brand. The Rode brand is a big name for vlogging; it is very popular among the big names in vlogging industry. The microphone also meets the exact expectations of the content designers and viewers. Also, the company offers a huge variety of microphones, and thus one can choose according to their choice. 
The company is good, but this mic can lack in the lower frequencies. However, this can be great for reducing traffic noise, and the microphone will perform well in situations of heavy wind. When utilizing the integrated dead cat windshield, this stands true.
Generally, the human voices rely on the higher frequencies, and the reason people love this company is that the Rode mics catch the speech. It swiftly eliminates the background noise. 
Key Features:
All-metal body

Low self-noise

A patented shock mount eliminates the unwanted vibration noise

Cardioid recording pattern

No need for a battery

3.5 mm stereo output

Three-position level control 

Integrated foam windshield
Pros
Cons
Well-built microphone
Quite loud as a result of low output (on Canon DSLRs)
Awesome shock mount
Not compatible with all cameras (requires a low voltage from the camera)
Also Read: Best Camera Straps in 2022 – Top 7 Great Picks
6. Boya BY-MM1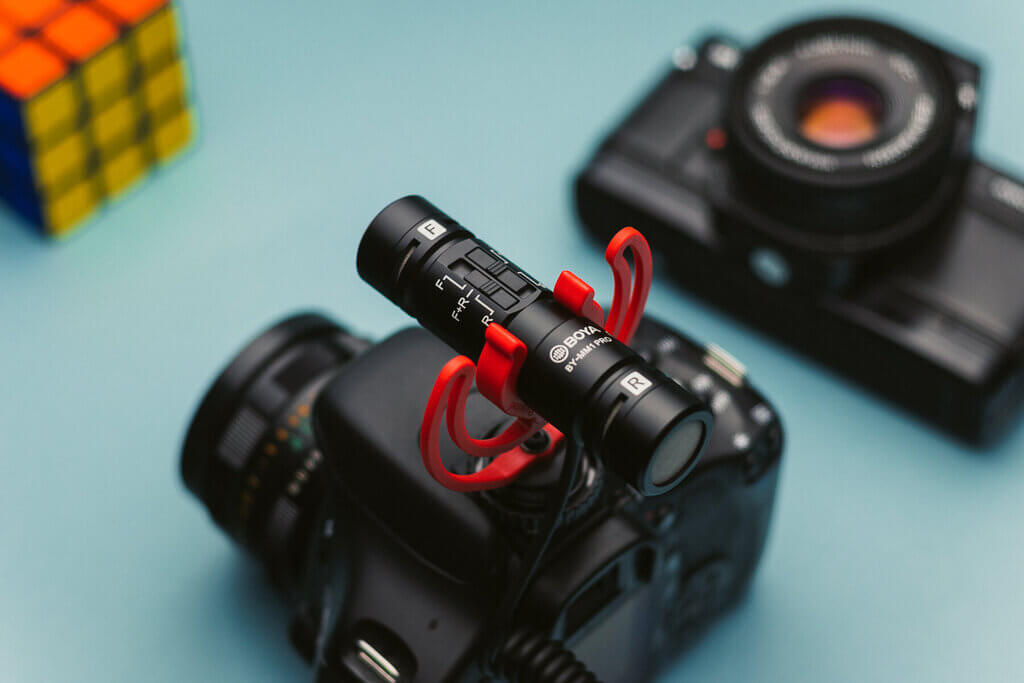 Source: squarespace-cdn.com
When it comes to the quality of the sound, this microphone is quite similar to the Rode, but when it comes to the price, there is a lot of difference. The Boya BY-MM1 is available at half the price of Rode VideoMicro. 
The microphone offers a lot of accessories, which provides more freedom and benefits to the users. The microphone provides solid performance; the only limitation you see in the mic is when you take it into the wind. So, when filming the windy performance, you may face sound issues. 
Key Features:
Rugged metal building

No battery is needed.

Includes a skilled furry windscreen

Suitable for numerous devices like mobile phones, DSLR cameras, Camcorders, etc. 
Pros
Cons
Compatible with multiple devices
Comes with a case
Option to monitor the playback only during the playback
Different modes of recording
7. Synco G2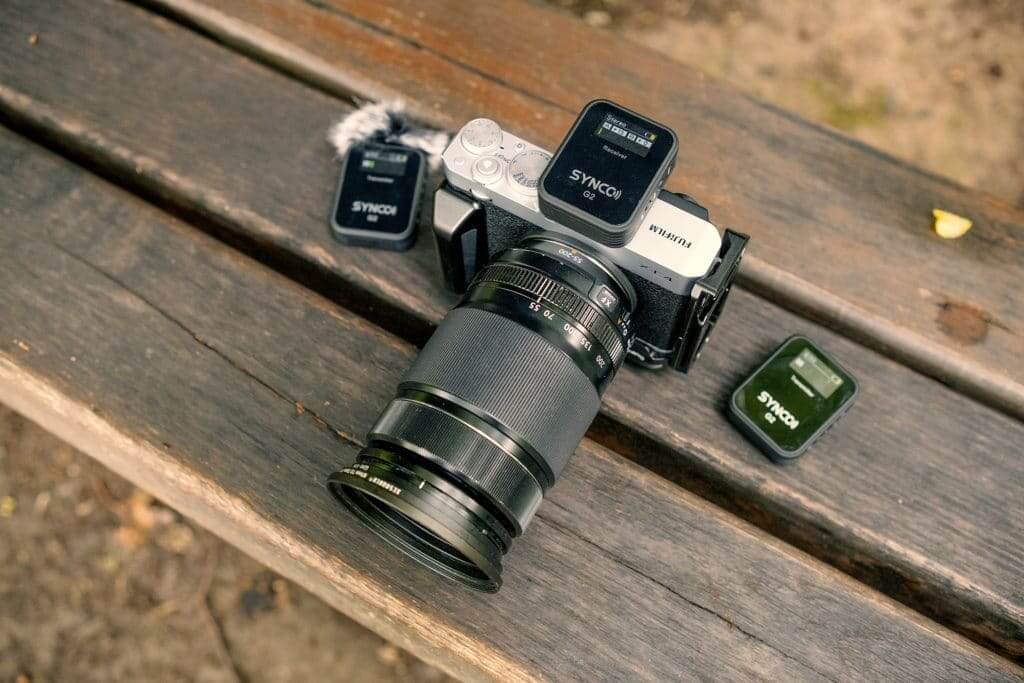 Source: fenchel-janisch.com
The Synco G2 is a budget microphone with many features like the other microphones . The only limitation you may face is while onboard recording, so if your audio drops, you may not be able to access that section of the recording. Also, it lacks a safety track either. 
The Synco G2 microphone can give you a better voice recording from a distance which is a great feature of the microphone camera attachment. If you are looking for a budget microphone, then you can go for Synco G2.
Major Features:
Easy to use

8-hour built-in rechargeable battery

TFT Displays on Transmitter Receiver, 

Mute Button and Adjustable Gain on Receiver

Ultracompact single-channel or dual-channel receiver

Transmitters with built-in mic
Pros
Cons
Cost-effective
Not able to offer as many channels as expected
Awesome voice-recording
Problems during onboard recording
Final Thoughts
At last, we would say that when you want to record good videos, then you don't only need a good camera, but you will also need good microphone attachments. The reason is that the in-built mic can often not get clear audio. 
With good attachments, you can get a clear voice along with high-quality videos; thus, they are essential for people who have a passion for making videos or are into vlogging. We have given some of the best attachments in this blog, which can help you select the right attachment per your choice. 
For more information, visit Technographx .