The Real Reason This Model 3 Owner Is Suing Tesla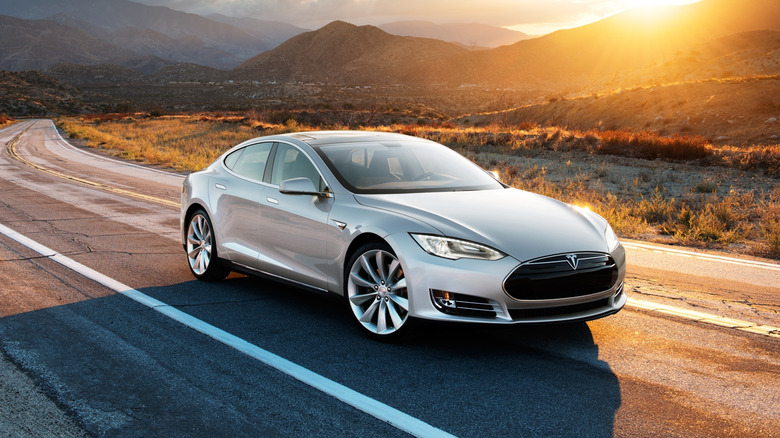 canadianPhotographer56/Shutterstock
It's a new day, and with it comes a new Elon Musk-related legal drama. This time it's related to a dangerous bug affecting several of Tesla's most popular models. Although the lawsuit has been filed by an individual who owns a Tesla Model 3, hundreds of users have had the same issue with their vehicles. The plaintiff is seeking $5 million in damages from the case, though as the issue could potentially affect thousands of Tesla owners, the final bill could be a lot higher.
Cars in general are getting far more technologically advanced than they used to be. Just a few decades ago, a car was a mostly mechanical object. Go back to the 1970s and the most advanced piece of vehicle electrics was arguably the car's radio. Now, small computers are as much of a part of a car's structure as its engine or its fuel pump. Electronic components are so vital that a chip shortage has almost ground global vehicle production to a halt. While computing has brought greater engine efficiency, better handling, and convenient features like electric windows, there's also somewhat of a downside. A lot of electronic parts rely on software; software is prone to bugs and corruption. A glitch making your computer crash is quite annoying — When one makes your car crash it's potentially life-threatening. So what is the issue that led to the lawsuit, and how might it lead to a big payout for thousands of current Tesla owners?
Phantom braking leads to lawsuit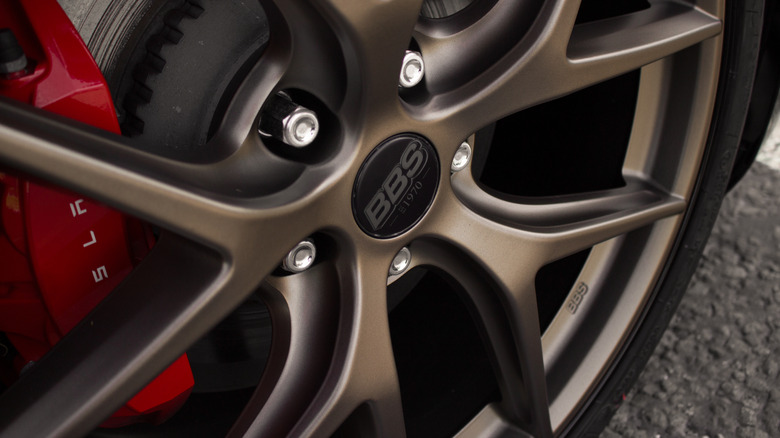 Peter J B/Shutterstock
Last week, a Model 3 owner filed a suit against Tesla seeking $5 million in damages over an alleged "phantom braking" issue. Apparently, the Model 3 in question would hit its own brakes unexpectedly and had, on two occasions, reduced its own speed by about half without any driver input. The lawsuit was filed on behalf of San Francisco resident and Model 3 owner Jose Alvarez Toledo, who claims the fault has turned "what is supposed to be a safety feature into a frightening and dangerous nightmare." The suit centers on Tesla's "Autopilot" feature and claims the EV maker unfairly profited from the software, breached its warranties, glossed over the safety risks, and violated California's unfair competition law (per Reuters). Damages are being sought for: "expenses to repair vehicles, diminished value of Tesla cars, and for a refund of the added cost attributed to the Autopilot feature."
If you own a Tesla, you could get involved too. According to Reuters, the firm managing the case is seeking class action status for the lawsuit. If a class can be established, which in this case would be Tesla owners, then lawyers handling the case can get a settlement based on the number of people they predict were affected by the issue. While there is a period where members of the "class" are asked to submit evidence and strengthen the case, you don't have to be directly involved to make a claim. Class actions usually have a window of time where those affected can claim their share of the settlement, even after the case has been ruled on.
What is the Tesla phantom braking problem?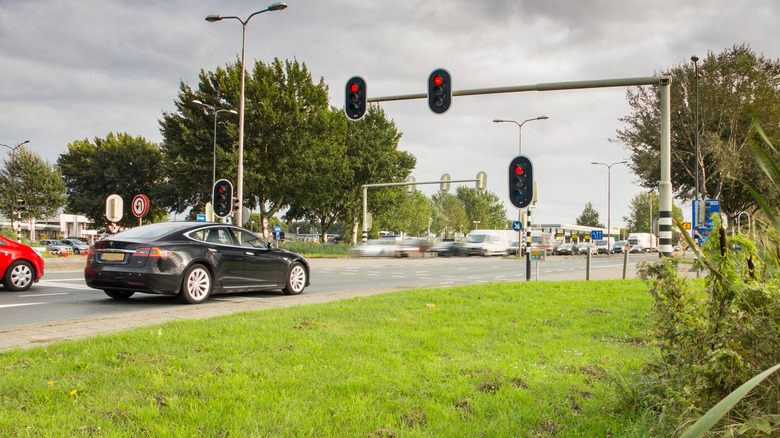 Robin Bouwmeester/Shutterstock
The "phantom braking" issue has haunted Tesla for a while now, and private legal proceedings aren't the company's only worry. Earlier this year, the National Highway Traffic and Safety Administration launched a federal investigation into the matter after hundreds of customers complained. The NHTSA appeared to point the finger at Tesla's advanced driver assistance features before stating: "Complainants report that the rapid deceleration can occur without warning, at random, and often repeatedly in a single drive cycle." While random braking could be an issue anywhere, the phantom braking problem is arguably most dangerous when it happens at highway speeds and in heavy traffic.
The issue has mainly affected Tesla's 2021 and 2022 Model 3 and Model Y electric vehicles and was potentially related to one of the company's software updates. In July, another update to the car's driver assistance software was released which Tesla claimed reduced the number of false slowdowns by tweaking how the car reacts to traffic signals and lane behavior. The first reports of the phantom braking issue surfaced during the fall of 2021 as Tesla nixed the 10.3 beta release of their full self-driving software (via The Verge). However, the rollback did not seem to eliminate the issue, hence the complaints, federal investigation, and potential class action lawsuit.
This isn't Elon Musk's only legal issue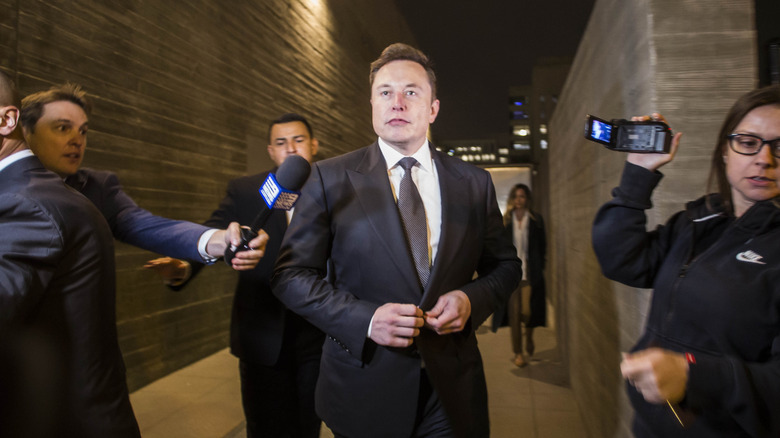 Apu Gomes/Getty Images
This isn't the first time Musk has found himself in legal hot water. The world's richest man has faced several high-profile lawsuits and investigations over the years, including at least one case where Tesla shareholders took him to court. Musk's biggest legal struggle at present involves his attempted takeover of Twitter. In April, Musk revealed he was the company's largest shareholder. He then entered into negotiations to buy a majority stake in the social media platform. However, problems emerged when Musk began to cast doubt on some of the figures Twitter had provided. He claimed the social media firm was underestimating the number of fake users on its site and asked for more data that could back up Twitter's figure of less than 5%. Twitter said the request was unreasonable, and after a brief standoff, Musk pulled out of the deal (via The Guardian).
Things didn't end there though. Firstly, there was the matter of the $1 billion break fee Musk had agreed to when negotiations began. Then there's the impact the whole saga had on Twitter's share price. Musk doesn't want to pay anything, while Twitter's executives want to force the takeover through. The whole thing has erupted into a complex legal battle, which is still ongoing.

The Twitter suit could go either way, but there is another current legal battle that the Tesla founder probably isn't too worried about. Musk is being sued for more than his substantial net worth over his backing of meme-based cryptocurrency Dogecoin. Musk had tweeted about the cryptocurrency extensively and even launched a pop-up store that allowed users to buy merchandise with the tokens. Dogecoin's price skyrocketed towards the $1 mark but ultimately collapsed as things with a literally limitless supply tend to do.