The 21 Coolest Cars From Paul Walker's Legendary Collection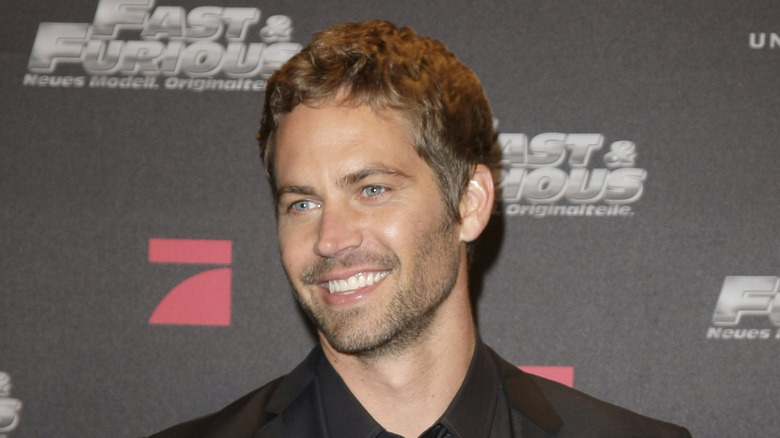 Florian Seefried/Getty Images
Paul Walker began his acting career early, making his TV debut when he was just two years old, according to MotorTrend. After a brief spell spent surfing the Californian coast during his teenage years, he returned to acting in the late '90s, taking roles in a bunch of low-budget films that were largely unsuccessful. His big breakthrough, however, came in 2001, when he starred alongside Vin Diesel in a film that would go on to launch an entire media franchise: The Fast and The Furious.
The film and its sequels captured the imagination of a generation of budding petrolheads and made Walker millions of dollars in the process. He spent much of that money amassing an incredible collection of cars, some of which were co-owned by his close friend and business partner, Roger Rodas. Unfortunately, Walker's life came to an abrupt end when a Porsche Carrera GT, driven by Rodas and with Walker in the passenger seat, crashed into a tree, killing both men almost instantly. While Walker's life may have been cut short, his legacy lives on, and so does his unique car collection. It's thought that the Fast and Furious star had dozens of cars under his ownership at the time of his death, but here are some of his very best.
BMW M3 E36 Lightweight
One of Walker's favorite cars, the BMW M3 E36 Lightweight is a rarity that was created especially for the U.S. market. Just 126 units were produced in total, and Walker at one point owned seven of them. The Lightweight was a track-focused special that brought the American-spec M3 closer in performance to the Euro-spec M3, which was more powerful thanks to looser emissions regulations. The Lightweight weighed just 2,949 pounds, 269 pounds less than a standard Euro-spec M3. It still made 46 horsepower less than its European cousin, but thanks to its bare-bones construction, it was only a tenth of a second slower in its push from 0-62 mph.
Of the 126 M3 Lightweights produced, only 115 of those were sold to customers, with the other 11 being pre-production prototypes. Walker's collection of Lightweights was truly one-of-a-kind, with The Smoking Tire reporting that his cars ranged from delivery miles only to around 40,000 miles. Five of those cars were put up for auction in 2020, with the remaining two presumably being kept by Walker's family.
Ford Mustang Boss 302 Race Car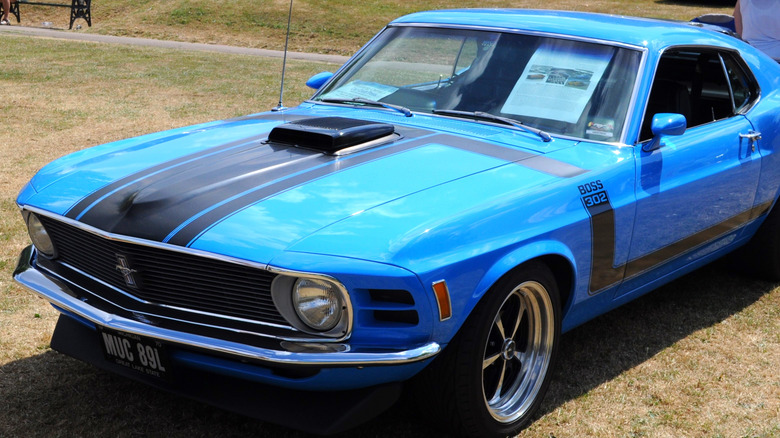 David JC/Shutterstock
Walker's love for the track was no secret, and neither was his love for Mustangs, of which he owned over a dozen. One of the newer Mustangs in his collection was a 2013 Boss 302, which he'd had custom built as a track day toy. The Boss 302 was a faster, more handling-oriented version of the 5th-generation Mustang. It revived a nameplate that was first used in 1969, just a few years after the original Mustang was launched.
It was a precursor to the Shelby GT350 that would eventually help shape the definition of a modern performance Mustang, alongside its more powerful sibling, the GT500. Walker's 302 had received a number of upgrades over the standard version, with a full roll cage, a large rear wing, and a carbon fiber front splitter. Unfortunately, there are no details available on any modifications under the hood, but it was unlikely to have remained stock in that department either.
Ford GT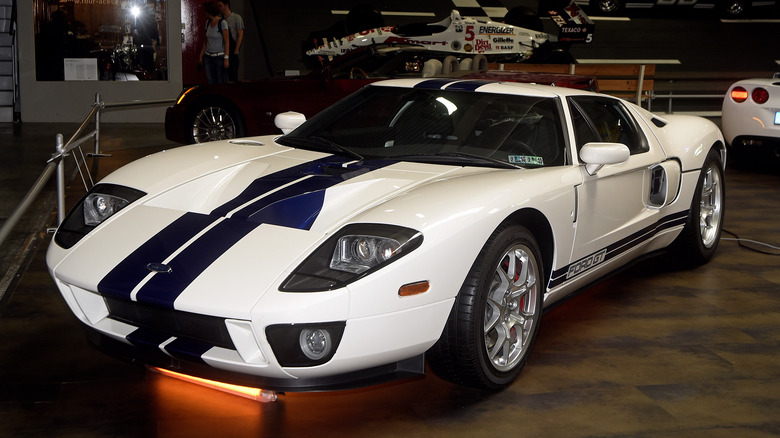 Didier Messens/Getty Images
Another jewel in Walker's collection was his 2005 Ford GT, which featured a Whipple supercharger that boosted the car's output to a reported 800 horsepower. Walker's GT is unusual in that it doesn't feature the stripe that was found on most production versions of the car. Ford launched the GT as a modern re-interpretation of the legendary GT40, which made history by breaking Ferrari's winning streak at Le Mans in 1966.
Ford made sure that the reborn GT was more than just a tribute, with Chris Amon, one of the drivers in the 1966 run, describing the new car as "pretty much how I remember the original in terms of the way it drives." It was also the company's first production supercar for fifty years after the GT90 project was canceled almost as soon as it was unveiled. Over 4,000 examples of the car were manufactured between 2005 and 2006, and they remain a highly desirable collectors' item to this day.
BMW M3 E30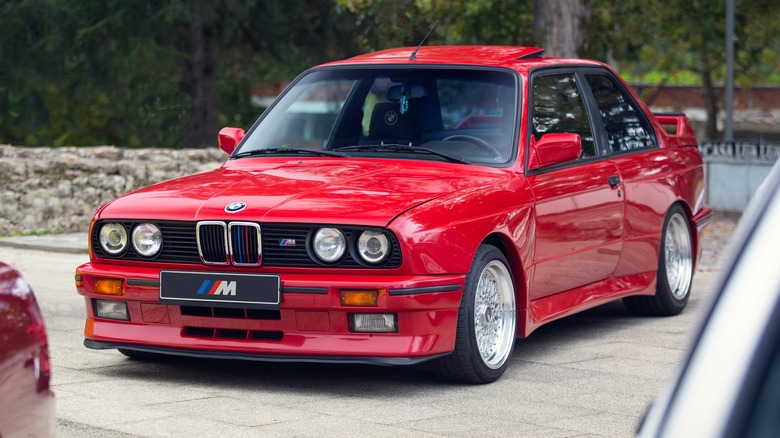 Sergio Rojo/Shutterstock
The original M3, the E30 was, like many of the world's greatest performance vehicles, originally built as a homologation special. Debuting in 1986, Group A racing regulations dictated that a minimum of 5,000 units of the car had to be sold within 12 months. BMW was initially unsure of how popular the car would be, but they needn't have worried, as, by the time production ended, nearly 18,000 units had been sold. At the heart of the M3 was a 2.3L four-cylinder engine making 200 horsepower, plenty considering the car weighed roughly 2,645 pounds.
As well as its upgraded powertrain, the M3 was also treated to a thorough exterior redesign for optimal aerodynamics. Hagerty reports that the car's drag coefficient was 0.30Cd, a big improvement over the standard 3 Series' 0.38Cd. Only the hood and the doors were carried over from the standard car, with everything else being custom-made for the M3. Paul Walker's M3 was in white, like many of his BMWs, and it was sold off at a Barrett-Jackson auction in Arizona in 2020.
Nissan R32 Skyline Race Car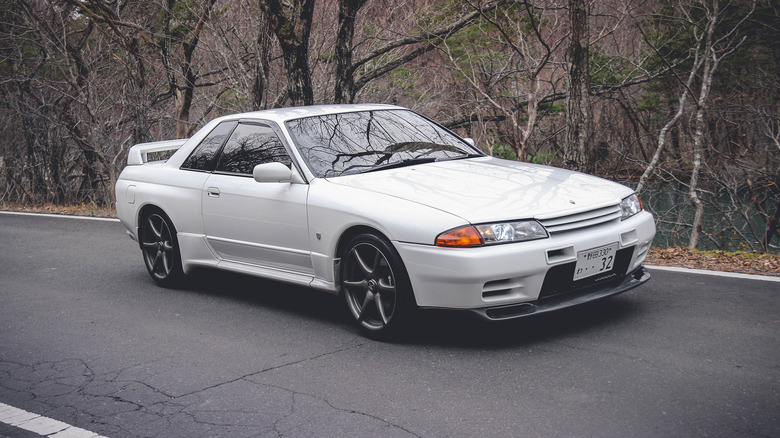 WildSnap/Shutterstock
The original "Godzilla," the Nissan R32 Skyline is for many enthusiasts, the quintessential '90s JDM performance car. The Skyline was popularized in America in part by the success of the Fast and Furious franchise, so it seems fitting that Paul Walker owned one himself. The car was put up for auction as an unfinished project, with several parts reportedly awaiting assembly. Walker had fitted the car with a Sparco racing seat and OS Giken OS-88 six-speed transmission, with MotorTrend reporting that the car had also been gutted inside and fitted with a roll cage.
Skylines were reportedly one of Walker's favorite models, most likely thanks to their huge tuning potential and potent stock output. It seems that more collectors are starting to agree, as R32 GTRs have increased in value over the past few years, almost doubling their average sale value on Bring a Trailer between 2016 and 2022. Walker's R32 sold for over $100,000 when it went under the hammer, considerably more than the average selling price, but then again, there are few people more closely associated with the Skyline's rise to fame than Walker himself.
Ferrari 360 Challenge Stradale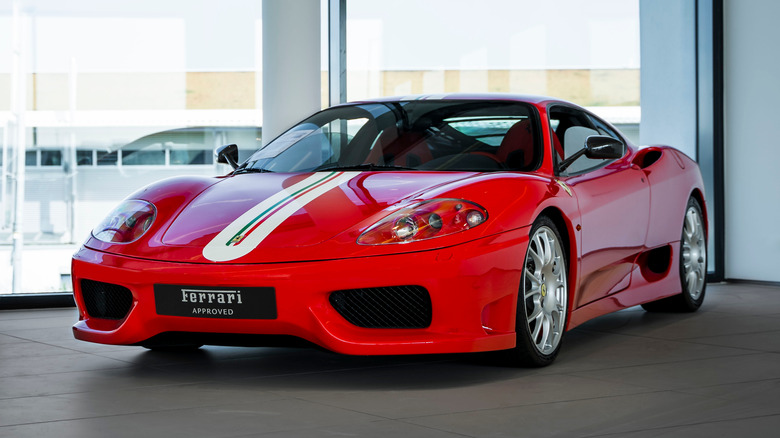 Tim Wilkens/Shutterstock
Paul Walker's name might be associated with some of the biggest JDM icons of the '90s, but what's less well known is his affinity for Ferraris. His collection at AE Performance, a shop that he co-owned with Roger Rodas, featured several Prancing Horses tucked away on storage ramps. In his video touring the shop, The Smoking Tire host Matt Farah singled out a Ferrari 360 Challenge Stradale, calling it one of his favorite cars, despite the fact that he wasn't a big fan of the original 360 Modena.
The Challenge Stradale was based on the Modena, but was overhauled for better performance on the track. It featured a mid-mounted V8 making around 420 horsepower, which made it good for a top speed of over 186 mph. Ferrari says that most of the upgrades on the Challenge Stradale (or CS) were derived from the brand's racing cars, in particular from FIA GT racing and from the one-make Ferrari Challenge Championship. These racing upgrades helped make the 360 CS sharper than ever around a track, but it had the side effect of making it less easy to drive on the road. In particular, the car's automatic transmission was notoriously tricky to drive at slower speeds, with one CS owner even swapping it out entirely for a six-speed manual.
Audi S4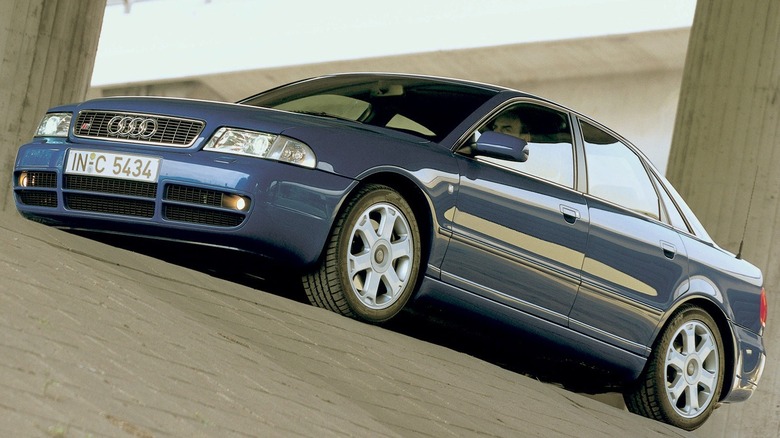 Audi
In an attempt to make its A4 sedan appeal more to car enthusiasts, Audi swapped in a modified version of the V6 engine from the A6 in 1998. The engine's displacement shrank to 2.7L, but its peak power output was increased to 250 horsepower and 258 lb-ft of torque. Audi christened this new car the S4, and it marked the start of the "S" line of vehicles that is still in production today. Paul Walker was reportedly fond of under-the-radar cars, preferring cars that simply went fast as opposed to anything too flashy. The S4 was exactly that, with subtle modifications and a new badge to differentiate it from the A4.
Autoblog reviewed the car when it was released, and called it an "outstanding ride," with a sharp handling profile and enough power to make it worth the extra asking price over the A4. Unusually for a four-door sedan, Autoblog recommended owners book some track time to fully make the most of their S4, which given his penchant for track cars, Walker was probably all too happy to do.
Nissan 370Z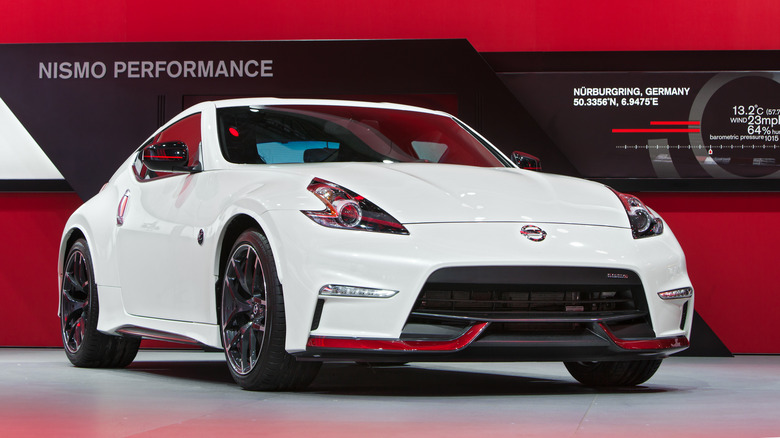 Darren Brode/Shutterstock
Paul Walker's 2009 Nissan 370Z was one of the stars of the 2020 auction that saw 21 of his vehicles auctioned off to the highest bidder, and it was an A-Lister in its own right. It was featured in Fast Five, the fifth installment in the Fast and Furious franchise, as Giselle's car. Walker purchased the actual movie car after filming had finished, having kitted it out with a suite of modifications including Volk TE37 wheels and a large rear spoiler. The car was branded with the livery of Walker and Rodas' performance shop, called Always Evolving, or AE Performance.
The car featured at the event hosted by the shop shortly before Walker's death, adding a bittersweet element into the history of this already-storied car. At auction, the car sold for $105,000, becoming the most expensive Nissan 370Z ever sold at auction in the process. The car's new owner remained anonymous, but fingers crossed that they preserve the car as-is, keeping its one-of-a-kind appearance intact.
Ferrari Testarossa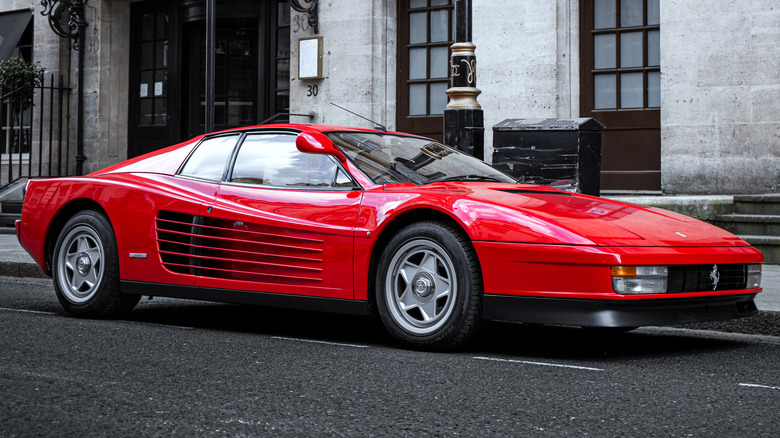 Martyn Lucy/Getty Images
Another Ferrari sat in the collection of AE Performance at the time of Matt Farah's shop tour was a Testarossa, one of the most famous performance cars of the '80s. Not much is known about Walker's Testarossa, and it's not even clear whether the car was owned directly by Paul Walker or co-owned with his business partner Roger Rodas. Ferrari notes that the car was designed to be the successor to the 512BBi, with Pininfarina breaking with tradition to create a wider, more visually striking design than before.
The Testarossa's most notable features are probably its side strakes, which run down the doors and almost all the way to the rear wheel arches. As well as pushing boundaries with its looks, the Testarossa was also cutting-edge in terms of its performance. It could complete a quarter mile in 13.5 seconds and its top speed was 180 mph. That was a highly impressive figure considering that the fastest car in the world at the time of the Testarossa's release was another Ferrari, the 288 GTO, which was just 5 mph faster.
Ford Mustang Cobra R '93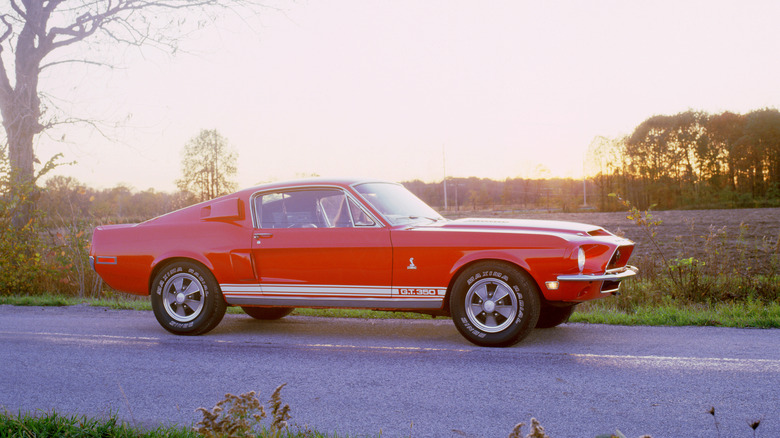 Heritage Images/Getty Images
One of the many Mustangs in Paul Walker's collection was a 1993 Cobra R, finished in Vibrant Red paint. The Cobra R was intended to be the last hurrah for the Foxbody, before the introduction of the fourth generation Mustang in 1994. Ford's Special Vehicles Team (SVT) stripped out over 450 pounds of weight over the standard 'Stang, removing the electric windows, sound deadening, and stereo, along with most other creature comforts. The car's rear seats were also removed, making the Cobra R a strict two-seater only.
Only 107 units were ever made, with each one featuring a 5.0L V8 engine that made 235 horsepower. That meant it could sprint from 0-60 mph in 5.7 seconds, making it seriously quick for the time even if it's dwarfed by the acceleration power of today's cars. The stripped-back, race-ready nature of the Cobra R has kept its resale value high among collectors, with MotorTrend reporting that a pristine example with just 500 miles on the odometer sold for a record-breaking $132,000 in 2019.
Toyota Supra MkIV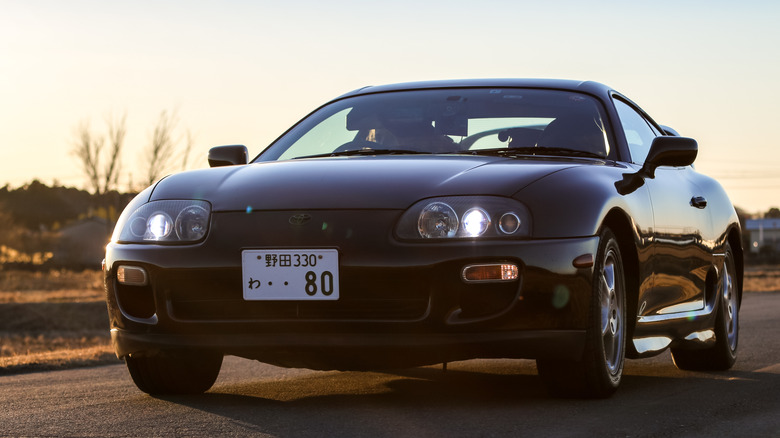 WildSnap/Shutterstock
Another '90s JDM legend made famous in part by Fast and Furious is the Toyota Supra. The fourth-generation, or A80, car wowed critics and buyers alike when it was first released, with its segment-leading power figures and impressive road presence. But, what really made it a legend was its engine, the famous 2JZ. Widely regarded as one of the best engines ever built, the 2JZ was capable of producing huge horsepower figures with minimal modification, its over-engineered construction ensuring that it remained reliable even when its horsepower output nudged into the four figures.
The Supra's starring role in the Fast and Furious franchise, coupled with its appearances in the Gran Turismo video game series, cemented its reputation as one of the most iconic (and desirable) cars of its era. The Supra driven by Paul Walker's character was auctioned off in 2021 for a record-breaking price of $550,000, but as of the time of writing, Walker's personal Supra has never been offered for sale.
BMW 850CSi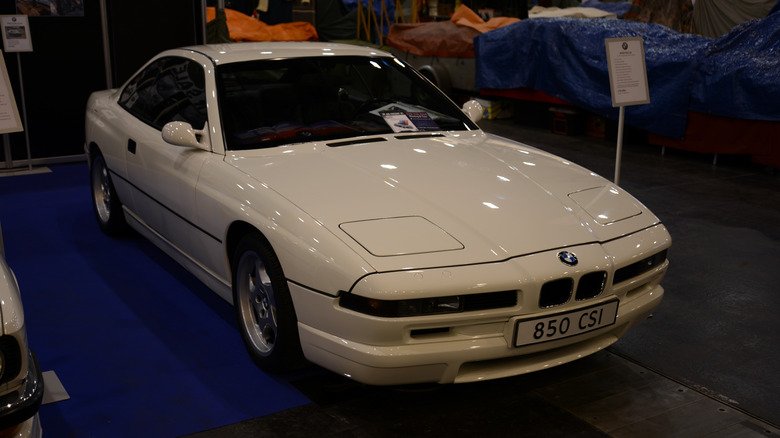 S.Candide/Shutterstock
The M car that never was, the BMW 850CSi, took the already-excellent BMW 8 Series and gave it a thorough overhaul. A total of 1,510 cars were produced between 1992 and 1996, with far fewer surviving on the road today. The car took the DNA of the abandoned M8 concept and reworked it to be more usable on the roads, with BMW's M division modifying the V12 engine from the 850i to make 376 horsepower from its 5.6L of displacement. This new engine was so different from the original 850i's V12 that it was given its own codename: S70B56.
As well as having a BMW M engine, the car was also built at the M factory, as denoted by its unusual VIN (vehicle identification number), which starts with the prefix WBS, rather than the standard WBA for BMW production vehicles. Hagerty reports that values of the 850CSi have doubled over the last ten years, with the average sale price of a pristine car sitting at $208,000 as of 2020. Not much is known about Paul Walker's 850CSi, apart from the fact that it resided in his performance shop's extensive garage and had a manual transmission. It didn't come up for auction during the high-profile sale of Walker's collection in 2020, so it's assumed to still be under the ownership of his family, although this has never been confirmed.
Porsche 911 996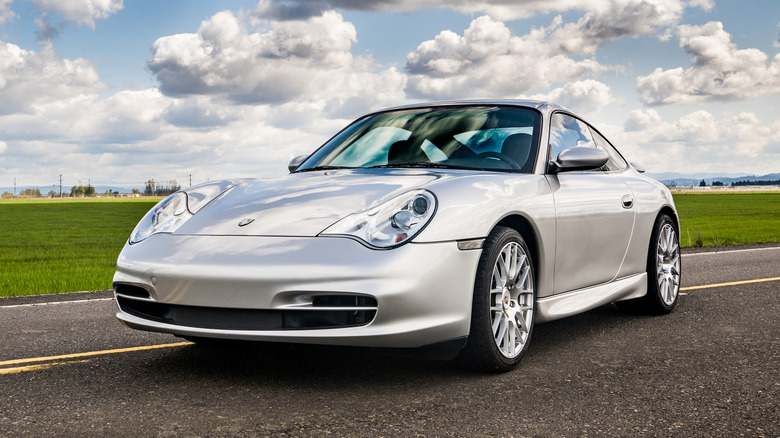 J.Robert Williams/Shutterstock
Porsche's first water-cooled 911 is arguably the most overlooked generation of the company's signature car, with many enthusiasts dismissing it because of its less-than-stellar reputation. Yes, it shared a lot of parts with the Boxster, including those "fried egg" headlights, and yes, it suffered from engine issues in certain models. But, look past the chatter and the 996 is a performance bargain. The axing of the previous 993 generation meant the end of the famous air-cooled engines, but despite complaints from purists, the new water-cooled system in the 996 was very effective, helping to provide more horsepower from less displacement.
The 996 also took heat for its design, which was the first time that Porsche had radically altered the 911 since its inception. Of course, this angered purists, especially since the car looked noticeably similar to its cheaper cousin, the Boxster. However, this new body also allowed the car to be 45% torsionally stiffer than the previous generation car, according to Auto Express. It also weighed less, losing approximately 110 lb depending on the trim. Despite a lot of negative press at the time over a reported fault that could cause engine failure, most 996 engines have stood the test of time, proving themselves just as reliable as any other era of 911. Paul Walker clearly wasn't bothered about the 996's stigma, with a black 996 Turbo sitting in the corner of his garage during Matt Farah's tour.
Ferrari F355 Spider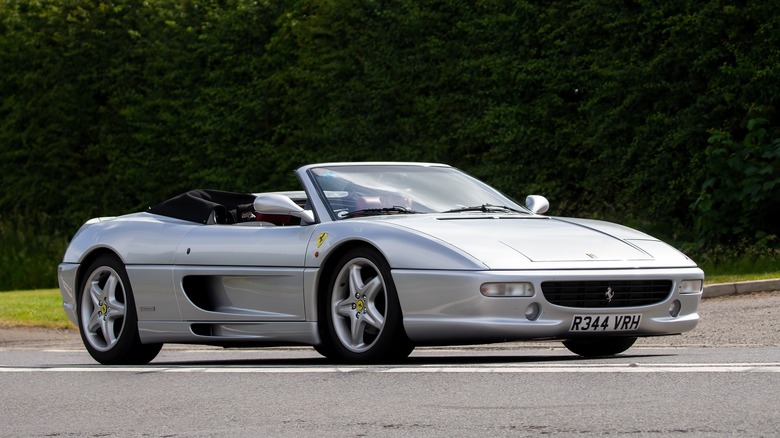 Sue Thatcher/Shutterstock
With the Ferrari F355 Spider, the company aimed to create a streamlined, aerodynamic convertible that would slot into the entry level of its lineup. Working with long-time collaborators Pininfarina, Ferrari spent a reported 1,800 hours testing the F355's design in a wind tunnel, to ensure its design was millimeter-perfect. The result was a car that behaved as well at low speeds as it did at high speeds, being predictable in all the right ways, according to Car and Driver.
Paul Walker's F355 Spider was a Fiorano edition, meaning that it was one of the last 100 cars to be produced. All Fioranos were sold to the U.S. market and featured upgraded brakes, carbon fiber accents and paddles, a remapped ECU, and the steering rack from the F355 Challenge. Considering how rare they are, F335 Spider Fioranos are reasonably affordable in the current market, with a silver example with just 27,000 miles on the clock selling for $126,500 at auction in 2018.
Porsche 911 930 Turbo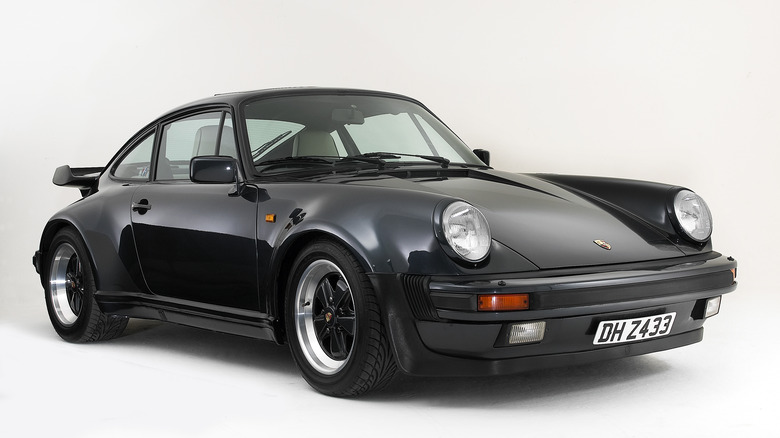 Heritage Images/Getty Images
One of the most desirable Porsche sports cars among the brand's hardcore enthusiasts, the 911 930 Turbo was revolutionary when it debuted in 1974. It was the fastest mass-produced German car ever made, and it was the first production sports car to feature a turbocharger. Most examples of the car were sold as coupes, and it took until 1987 for a Targa and a cabriolet version to be offered. The car was then only in production for two more years, being replaced in 1989.
The values of 930 Turbos vary wildly depending on spec, condition, and model year, so it's impossible to know what Walker's car is worth, as these details aren't publicly available for his car. The model might be iconic among Porsche fans, but it has its fair share of idiosyncrasies, in part due to its cutting-edge turbocharger. Porsche Club GB reports that the car has a large "turbo lag," which can catch drivers off guard if they're not used to it. Early 930 Turbos also have slow-shifting gearboxes, with only the 1989 model featuring a more slick 5-speed G50 transmission. They might come with more quirks than other 911s, but the general consensus is that the 930 Turbo is a very rewarding car when driven properly, and as a result, it has been steadily appreciating in value year after year.
Ford Shelby Mustang Eleanor Replica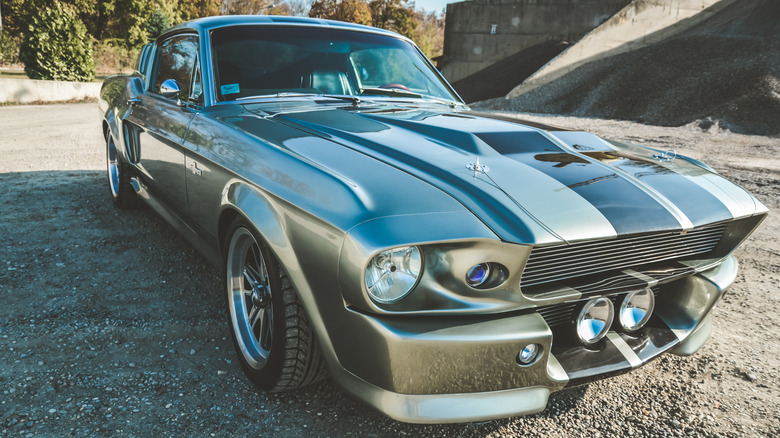 pasicevo/Shutterstock
Fittingly for a man who made his fortune in movies about cars, Paul Walker owned a recreation of the "Eleanor" Shelby Mustang from the 2000 remake of Gone in 60 Seconds. The film was a smash hit at the box office, and the Chip Foose-designed 1967 Mustang that played a starring role became an icon in its own right. In a recent SlashGear poll, readers ranked Eleanor the second most desirable movie car ever, only beaten by Doc Brown's DeLorean DMC-12 from Back to the Future. Maxim reports that 11 cars were originally made to star as Eleanor, with only three "hero" models surviving filming fully intact.
One of those cars, which was driven by Nicholas Cage during the film's closing scenes, sold for a staggering $1 million at auction, making it one of the most valuable Mustangs ever. Walker's car, seen in The Smoking Tire's tour of the AE Performance shop, isn't an original, but it's a close replica. It's not known who created Walker's replica, but several companies have sprung up in the years since the film dedicated solely to making Eleanor clones.
Saleen S7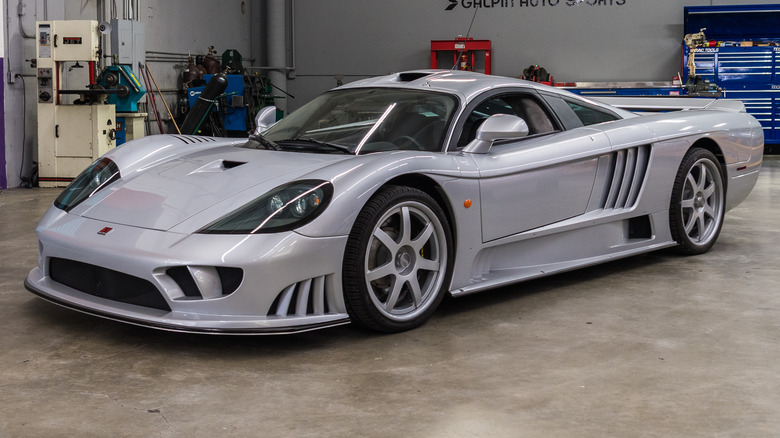 betto rodrigues/Shutterstock
The Saleen S7 is a landmark in American automotive performance, and it was the first standalone car ever produced by the company, which is most famous for tuning Ford Mustangs. The S7 was built both as a road car and as a GT racing car, with both versions almost identical in their construction. However, the road car is considerably more powerful than its track-only cousin, in part thanks to the large pair of turbochargers that are present on many road-legal S7 models. Paul Walker's S7 was reportedly not a twin-turbo version, instead being one of the earlier road-going models that made 550 horsepower instead of the Twin Turbo's 750 horses.
Still, 550 horsepower is still a huge figure, especially given that the car only weighs around 2,865 lb (1,300 kg). With a starting price of $580,000, the S7 was in the same price bracket as the Mercedes-McLaren SLR and Porsche Carrera GT, but it was able to keep up with both of them both in a straight line and around a track. Car and Driver tested the Twin Turbo version of the car and reported that its steering felt near-instant, even making a Porsche Cayman S feel sluggish. As fast and agile as it was, the car's high price meant that it found few buyers, with the total number of S7s produced thought to be well under 100 units.
BMW 2002tii Touring Alpina
An ultra-rare gem even by Paul Walker's standards, the BMW 2002tii Touring Alpina might be obscure, but it's a purist's dream. The Touring was the longer, roomier version of the standard 2002, with an extended hatchback design that only sold in small numbers, to begin with. Then, the original buyer of Walker's car would have had to send it to BMW tuning specialists Alpina for a suite of upgrades.
The engine was reworked to produce 130 horsepower, Alpina chairs were fitted, and a racing steering wheel was often fitted, although the exact upgrades varied from car to car. This was a car built by commission only, of course. Despite their rarity, 2002tii Touring Alpinas aren't hugely valuable, at least not compared to some of the other cars in Walker's collection. A well-documented silver example that was mechanically similar to Walker's car sold on Bring a Trailer in 2016 for $45,600.
Porsche 911 997 GT3 RS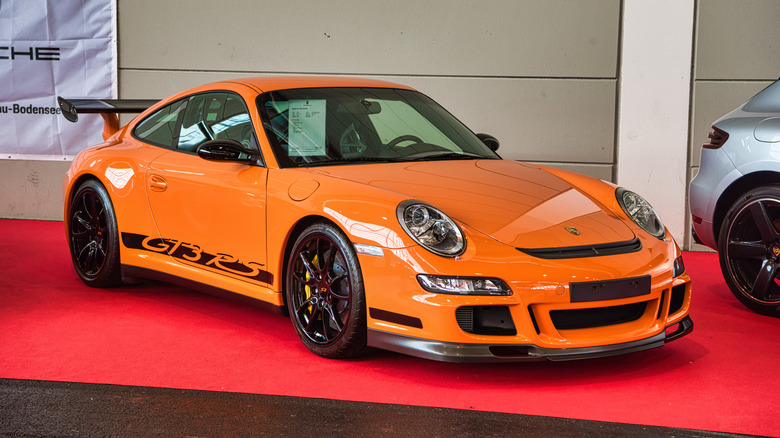 Dmitry Eagle Orlov/Shutterstock
Even though it's now over 10 years old, the 997 generation of the 911 GT3 RS remains one of the most highly-regarded among enthusiasts. A 2020 opinion piece by Autocar's Andrew Frankel even called it the best car to wear a GT3 badge, high praise considering the caliber of Porsche's recent offerings. Paul Walker had two examples of the car in his collection at AE Performance, with one, in particular, being clearly well-used according to The Smoking Tire.
Host Matt Farah pointed out that the orange GT3 RS in the collection had seen significant track time, with various chips and scratches clearly visible down the car. It's not surprising, given that Walker was known for wanting to make the most of his cars, utilizing their full potential when other collectors babied their cars or hid them away in garages for years on end. Like the other Porsches in Walker's collection, it's unclear whether he directly owned the car or whether it was shared with his business partner, but neither GT3 RS appeared in the 2020 sale of Walker's personal collection.
Nissan Skyline R34 GTR V-Spec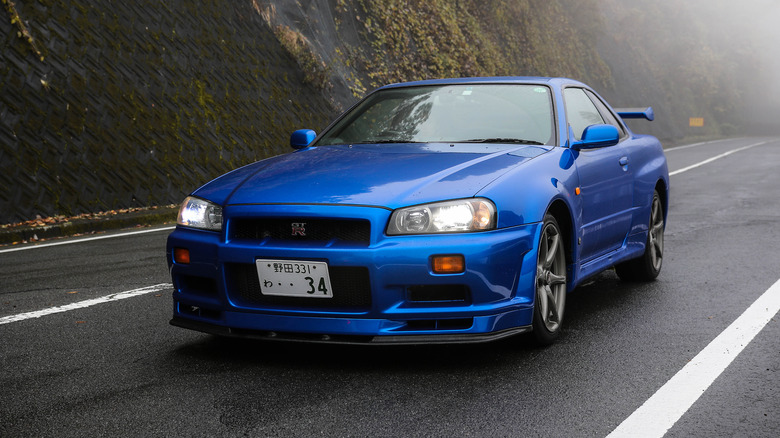 WildSnap/Shutterstock
Paul Walker's character in the Fast and Furious franchise, Brian O'Connor, was known for driving a modified R34 Skyline, but the connection between the car and Walker was more than just in the movies. He owned several examples of the R34 GTR over his career, first purchasing a silver V-Spec before trading it for a white V-Spec II, according to Motor Authority. The V-Spec cars got several upgrades over a "standard" R34 GTR, including revised suspension and an active limited-slip differential.
There were no R34 Skylines ever officially sold in the U.S., but 14 examples of the R34 GTR were homologated for American roads by a conversion specialist, MotoRex. Out of those 14 cars, several were known to have been driven or owned by Walker. In August 2022, it was announced that an R34 GTR driven by Walker for around 18,000 miles for promotional purposes would be put up for auction. It's incredibly rare, since it's a 2001 model year, meaning it's not old enough to be imported under the 25-year rule yet. The car sold for $577,000, making it one of the most expensive Nissans ever sold in America.
BMW M1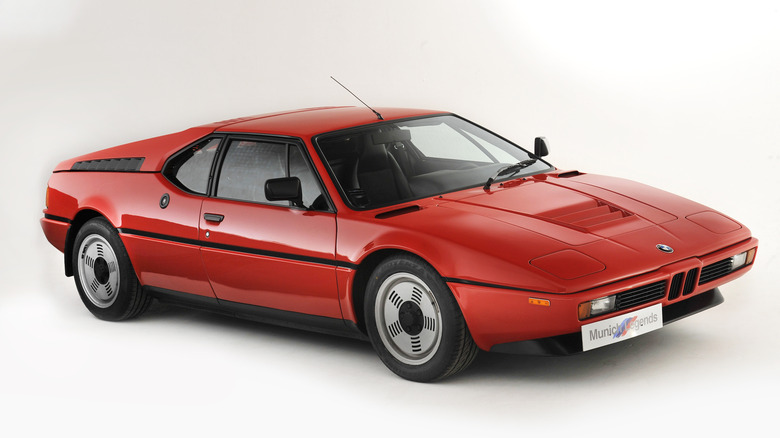 Heritage Images/Getty Images
One of BMW's most expensive sales flops ever, the BMW M1 is both rare and, today at least, very valuable. But, when it was first released, very few buyers were interested. This was thanks to the drawn-out development program, which was hit with countless setbacks, pushing the car's release date back multiple times. Originally, the car was supposed to be built by Lamborghini, but after that deal fell apart, BMW switched to trying to build the cars in-house.
These delays meant that development costs for the car piled up, and BMW was forced to set the M1's price very high to try to recoup some of its cash. This high price put buyers off, and in total, only 460 units were ever sold. The car was withdrawn from sale in 1981, just three years after it had launched. Paul Walker's M1 was a special-edition AHG model, featuring a special paint job and a body kit inspired by BMW's racing M1. The car went up for auction on Bring a Trailer in 2021, eventually selling for $500,000, plus buyer's fees.