Instagram Seems To Be Copying Another Groundbreaking Idea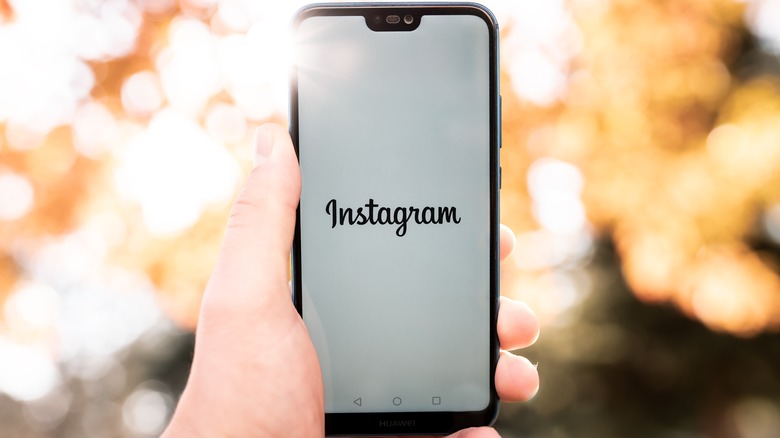 Dominik Belica/Shutterstock
Since 2020, the minimalistic social media app BeReal has grown in popularity — largely among young, college-aged adults — by simplifying its focus down to exactly two minutes of each day during which its users are able to post images taken at that exact moment, showcasing monotony rather than glam. In this sense, BeReal has been able to capture a certain degree of authenticity not often seen in apps like Instagram or TikTok, where users are able to grow a following by showing off curated content that may not always reflect the real world.
In fact, BeReal has grown so popular that it enjoyed a 315% boost in total users between 2021 and 2022. It's important to note that BeReal had only been downloaded around 43.3 million times back in April (via Apptopia), but its success since launching all the way back in December 2019 represents the kind of breakout growth that quickly gets noticed by established social media giants. Instagram is no stranger to assimilating successful ideas from other social media apps.
The company lifted its controversial Reels feature directly from TikTok, for example, though it seems like this idea didn't work out as planned since Meta simply isn't gaining ground as quickly as it once did despite TikTok's continued runaway success. This hasn't stopped Instagram from seemingly continuing to pull new features from successful apps and rebrand them under its own colors, which is what it may be doing with a freshly leaked (but not fully confirmed) "IG Candid Challenges" feature.
IG Candid could be Instagram's take on BeReal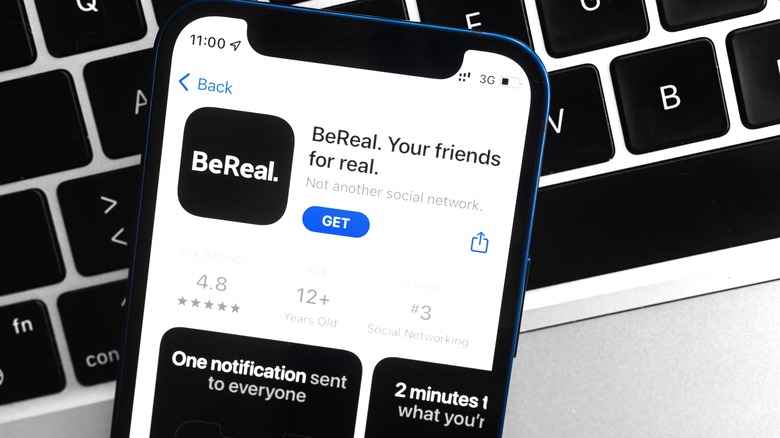 FellowNeko/Shutterstock
According to a tweet from popular self-titled leaker Alessandro Paluzzi, Instagram is set to reveal a new "IG Candid Challenges" feature at some point, which basically does what you'd expect it to do if you've already been a fan of BeReal. The leak itself has been partially confirmed by an Instagram spokesperson to Engadget, though it's unclear if and when the feature will see a full release.
#Instagram is working on IG Candid Challenges, a feature inspired by @BeReal_App 👀

ℹ️ Add other's IG Candid to your story tray. And everyday at a different time, get a notification to capture and share a Photo in 2 Minutes. pic.twitter.com/caTCgUPtEV
— Alessandro Paluzzi (@alex193a) August 22, 2022
As shown in the interface of the leaked screenshot in Paluzzi's tweet, those registered to participate in the IG Candid Challenges feature will receive a notification at some variable time every day, during which they'll be given two minutes to capture whatever they feel like capturing — just as long as it's captured during that two-minute window. Paluzzi followed up his initial tweet with a second tweet showcasing the IG Candid camera, which seemingly relies on the Instagram Dual Camera feature. For those unaware, Dual Camera was also seemingly swiped from BeReal.
Whether or not there's a significant demand for the supposedly upcoming IG Candid Challenges feature is yet to be seen. Until recently, Instagram has done well for itself as an image-sharing social media platform, though its gradual slide toward video has not been as well-received as its shareholders may have hoped. In fact, across the board, Meta may be struggling to keep its users interested amid its unfocused foray into video, VR, and the metaverse, the latter of which has yet to materialize in any serious way for most consumers.