Here's What Happened To The 1967 Mustang Fastback From "Fast & Furious: Tokyo Drift"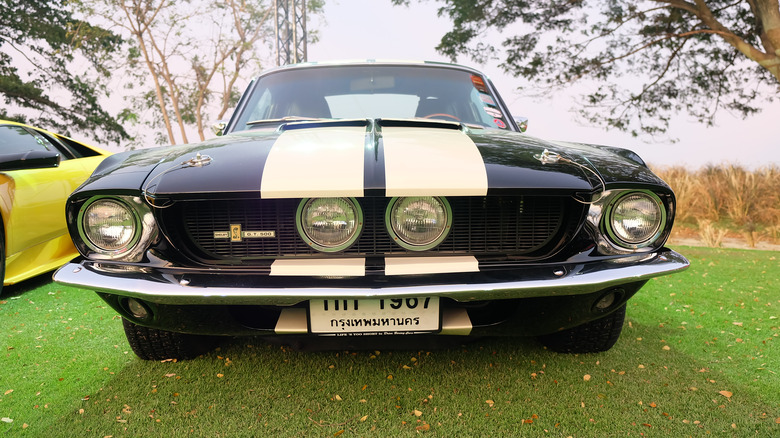 sarunyu rapeearparkul/Shutterstock
The "Fast Furious: Tokyo Drift" Mustang Fastback drove away like a wild horse, both during and after the film, but where? While it's not the only Mustang from the "Fast and Furious" franchise, the "Tokyo Drift" hero car stood out among the most peculiar examples. For starters, it's an American muscle car that's running on a Japanese-built RB26 engine, the same ones used on Paul Walker's iconic "Fast and Furious" tuner ride. In the film, the Mustang was nothing more than a husk, in dire need of restoration, until protagonist Sean Boswell brought it back to life.
Sean and his friends went to work on his dad's Mustang by upgrading its parts and swapping its motor from a shiny new example of the legendary "Godzilla." This gave the Nissan-powered Mustang the tools it needed to drift its way to victory, making Sean the new Drift King in the process. It's a bizarre concept at first, but eventually turned out to be quite a fitting end for a Western film that puts the Japanese sport of drifting under the spotlight. The thing is, Mustangs were already a cool part of the Japanese police force, and the "Tokyo Drift" car took this unlikely synergy to the next level.
Tokyo Drift Mustang specs: JDM meets American muscle
Despite being portrayed in the film as a 1967 Mustang Fastback, the "Tokyo Drift" car mostly consisted of 1968 Mustangs, according to a YouTube video interview with its builder Sean Morris. Efforts were made to transform these Mustangs into a JDM star, including turning its exhaust sideways to mimic a style that was prominent in Japanese tuner sports cars. While the movie utilized numerous Mustangs for the role — one of which even had an incomplete set-up used strictly for still shots — only the Hero 1 car had a running Nissan engine. What's more interesting, was how its performance was bolstered when using a Japanese twin-turbo inline six-cylinder motor in lieu of the bigger V8 engine.
The "Tokyo Drift" Mustang specs show an increased 340 horsepower, and was said to be not only faster than a regular '67 Mustang Fastback but a stock Skyline R-34 as well (via RT). This made it capable of doing a quarter-mile over a second quicker, with a speed that's 13 mph faster than its stock counterpart. Although it was a pretty capable drift machine, the hero car never did any drifting on the set, as plain old stunt cars did all the action scenes. Viewers never got to hear the "Tokyo Drift" Mustang's engine roar either, since the sounds used in the final race scene were dubbed from an older single-turbo RB25 GT-R instead. So, where did they all drift to next?
Where is the Fast and Furious Mustang now?
There were about six '67 Mustangs used in "Tokyo Drift" in total. However, one of these celebrated pony cars was totaled during filming (via autoevolution). That leaves only five remaining working examples, which were eventually sold off by Universal once the movie wrapped up. Afterwards, the rest of the units found their way overseas, to local auction lots, and even automotive museums. One of the "Tokyo Drift" Mustangs was reportedly shipped to Norway, while another example sold for as little as $14,000. In 2018, the "Fast and Furious" star reappeared yet again at Carlisle Auctions, but that particular model likely had the more common Windsor motor instead of the highly-coveted RB26 variant.
As for the Hero 1 car, it went to the showroom of the Chicago-based Volo Auto Museum. The Nissan/Ford hybrid was said to come with "loads of aftermarket accessories," including Volk Racing Wheels, Wilwood disc brakes, Global West suspension, and a roll cage. Unfortunately, those hoping to own the definitive version of the "Tokyo Drift" car hero are out of luck since it's already been marked as sold. Well, at least fans can still enjoy it on the silver screen as a perfect example of how two American and Japanese icons can do better when working together than against each other.