Every Nissan Skyline GT-R Generation Ranked Worst To Best
The Nissan Skyline, and particularly its GT-R spinoff, is one of the most respected and coveted nameplates to come out of Japan. For decades, the car was only available in eastern markets, and anyone on the other side of the globe had to deal with secondhand imports in order to get one. American and European drivers finally had their cravings indulged by Nissan in 2009, when the current R35 generation was released as a global platform (via Car and Driver). The GT-R has long been seen as Japan's attainable" supercar, matching or beating the performance of European competitors several times its price.
At its origin, the Skyline was not a supercar at all. It wasn't even a Nissan. The Skyline debuted in 1957 as a small luxury sedan produced by an obscure Japanese marque called Prince Motors. Coupe and convertible versions were also produced in the following years. In 1966, Nissan acquired Prince and took the Skyline under its wing. Around the same time, the car received sportier styling and began its long racing career. This all led to the introduction of the first GT-R in 1969. Throughout the latter half of the 20th century, the GT-R name became synonymous with advanced technology and racing victory.
Now that you know some history, let's go into greater detail about every generation of the GT-R, and what makes each of them special.
C110 Skyline 'Kenmeri' GT-R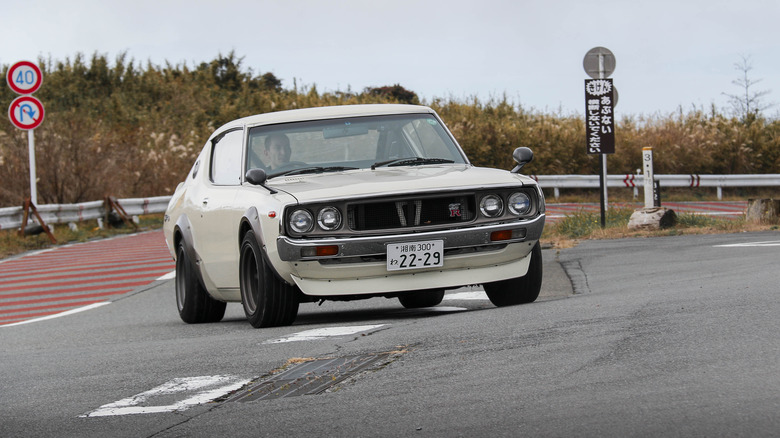 WildSnap/Shutterstock
This rarest of Skyline GT-Rs ranks last because it's the only example of the car that can be considered an abject failure. Though intended as a replacement for the very first generation GT-R, the car was almost immediately canceled upon its introduction in 1973 (via MotorBiscuit). Nissan cited the looming oil crisis of that decade as responsible for cratering interest in performance cars, and the GT-R nameplate was unceremoniously retired until its revival in 1989. Car and Driver also reported that the automaker didn't want to go through the trouble of adapting its older S20 engine to fit new Japanese emissions standards.
With less than 200 produced, you're unlikely to see an authentic C110 GT-R on the road. Surviving examples currently sell for deep six-figure numbers. In 2020, a genuine, original Kenmeri was auctioned off for ¥47,300,000 (via BH Auction). Roughly $330,000 today.
From a performance standpoint, the C110 was much the same as the C10 it replaced, inheriting the same 2.0-liter engine and five-speed transmission. Styling was a bit more "modern" than the old car, at least for the 70's, with size and weight marginally increased. The GT-R sedan was also dropped, with only a coupe body available. One significant upgrade this generation got was four-wheel disc brakes, replacing the rear drums on the C10.
R33 Skyline GT-R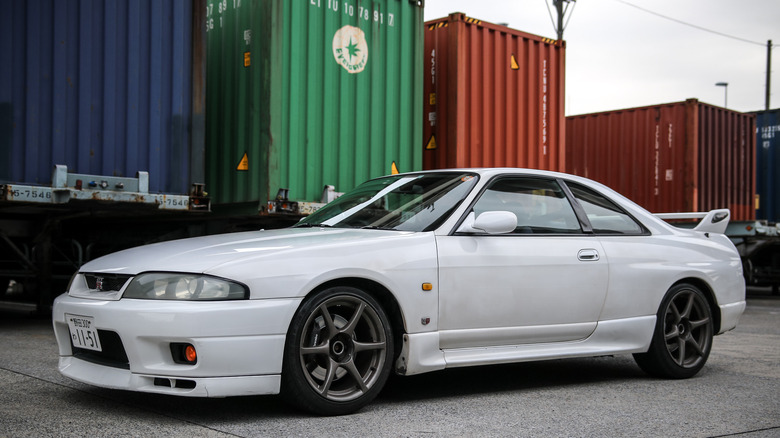 WildSnap/Shutterstock
The R33 Skyline GT-R is widely, perhaps unfairly, regarded as the awkward middle child between the legendary R32 and 34 generations. Compared to its predecessor, it didn't bring a whole lot new to the table, with the same RB26 engine and the same electronic all-wheel drive. What it did gain was 250 pounds of weight, which negatively impacted handling, and reduced the car's racing pedigree. Still, the Skyline was able to beat its older brother around the Nürburgring track by a respectable 21 seconds (via Car and Driver). Styling-wise, the R33 GT-R was also very derivative of the R32, mostly just smoothing out its hard edges.
Since it was introduced in 1995, early examples are fully eligible for U.S. import as classic cars under the 25-year law. A handful of them were also legally imported into the country in the early 2000s by a now-defunct company known as MotoRex. However, the company went under after allegations of embezzling customer money (via HotCars). Data from Classic.com data shows that they can commonly be had in the $50,000 range. Some cars with particularly low mileage have also crossed into six-figure territory.
Honorable Mention: R31 Skyline GTS-R
The R31 GTS-R could've been the true return of the GT-R line if that pesky letter "S" hadn't gotten in the way. The R31 generation was introduced in 1985, and the sporty GTS-R followed in '87 for racing homologation purposes. This was one of the first implementations of the Nissan RB engine series, sharing its 2.0-liter displacement with early GT-R models (via Car Throttle). The engine was turbocharged to over 200 horsepower and made around 400 in racing spec. Like its predecessors, it put the power down with a five-speed manual gearbox and rear-wheel drive. Upgrades like the larger 2.6-liter engine and all-wheel drive wouldn't be introduced until the R32. To meet homologation requirements, 800 GTS-Rs were sold for the streets.
The racing version of the R31 also helped put Nissan's name back on the top when it came to road course competition. It managed to make a splash in Europe by placing sixth in its class at the 24 hours of Spa-Francorchamps in 1988, along with successful campaigns in Australia, and at home in Japan (via Japanese Nostalgic Car). GTS-R's don't seem to change hands all that often, so it's hard to get a definitive market value. In 2020, a pretty mint example sold at Australian auction house Shannons for just over $51,000. Another with plenty of miles is listed by Japanese exporter JDM Expo for $17,700, so they seem to be cheaper than GT-Rs overall.
R35 GT-R
After a brief hiatus, the GT-R model made a triumphant return for the 2009 model year. This time around, the car dropped the Skyline name, being spun off into its own model. It was also the first time that the GT-R was made available to a broad international market, available at a starting price of just over $70,000. What a steal it was at that price, as Car and Driver compared it favorably to the Porsche 911 Turbo and Lamborghini Murcielago. The RB26 engine was dropped, instead moving to a twin-turbo 3.8-liter V6 making 480 horsepower at all wheels. The manual gearbox was also shed in favor of a six-speed dual-clutch auto, which allowed the R35 to shoot to 60 miles per hour in only 3.3 seconds.
It's been over ten years since the introduction of the current GT-R, and it's still going strong, although you might argue that the platform is hanging around past its expiration date. Over the years, the R35 has seen multiple increases in both power and price tag, but not many other changes of note. As it stands, the current GT-R retails for just over $113,000, so it's not quite the performance bargain anymore. Horsepower is up to 565, allowing for 0-60 times as quick as 2.9 seconds. The $200k Nismo edition boasts 600 horsepower and adds functional race-prepped aerodynamics.
Honorable Mention: GT-R50 by Italdesign
This coach-built R35 can, in a sense, be seen as the next evolution in GT-R design. In 2018, Nissan celebrated the 50th anniversary of the badge by contracting Italian design house ItalDesign to build this one-off special edition, using a GT-R Nismo as their base. It certainly evokes the shape of a standard R35, but ItalDesign has tweaked and changed all the little details in one form or another. All of the conventional sheet metal is replaced with body panels made from hand-hammered aluminum. The roof pillars were cut into in order to lower the profile of the whole chassis. The lighting of the R35 was also updated with more futuristic LEDs.
As a rolling concept, the car is fully functional, and the V6T engine has been upgraded to put out a healthy 720 horsepower, along with 760 pound-feet of torque. It's likely the quickest GT-R to date. ItalDesign has also devised a very limited production run of the GT-R50, with a limit of 50 hand-built cars being created and sold off for a million dollars apiece (via Top Gear). 
R32 Skyline GT-R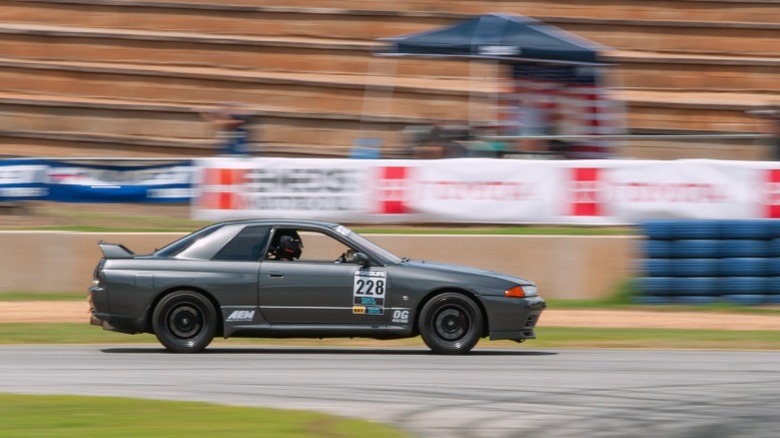 Talon Homer/SlashGear
This generation is a huge part of the reason why the letter G-T-R causes car nerds to become sweaty and quiver with excitement. For over two decades beginning in 1989, this car was considered forbidden fruit in the U.S. before finally being legalized under the 25-year exemption, and there's good reason it's put on a pedestal above even other JDM greats. The R32 gave the GT-R name to a whole new generation and introduced the world to the power-hungry RB26 engine, as well as the computer-controlled and world-beating Atessa all-wheel-drive system (via Car and Driver). In 1989, an all-wheel-drive performance car was basically unheard of outside of off-road rally stages, but the Skyline proved itself through a successful racing career and became immortalized on the PlayStation's Gran Turismo simulator.
The GT-R made a particular mark on the Australian touring car circuit, where locals dubbed it Godzilla — the monster from Japan. In 1990, it took the number one spot at the Bathurst 1,000, Australia's toughest endurance race. At home in Japan, it literally never lost a race in its class. In street trim, the RB26 was rated at 276 horsepower, with a five-speed manual being the only transmission option.

The R32 is far and away the most attainable GT-R, with over 40,000 vehicles produced over five years of production. Classic.com shows them selling for an average of $45,000, although well-used examples can be found for as low as 20 Grand.
C10 Skyline 'Hakosuka' GT-R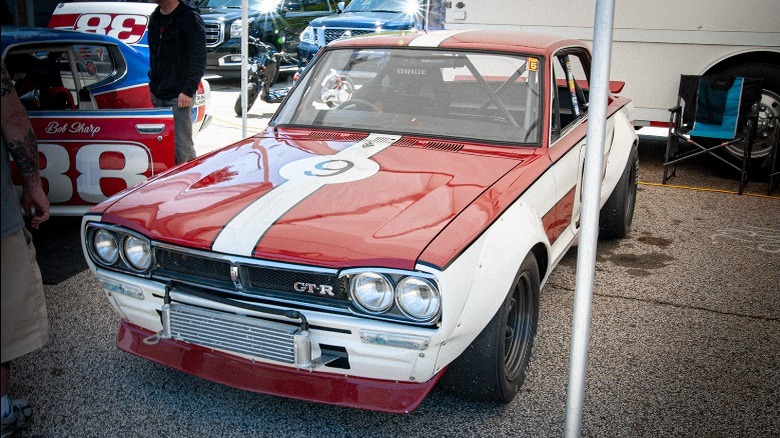 Talon Homer/SlashGear
While the R32 made the GT-R name legendary, the C10 Skyline was a legend in its own right, boasting both vintage and tuner cred. It doesn't get cooler than this, with everything right about 60's Japanese styling. The pronounced grill and fender flares make the GT-R aggressive while swooping body lines keep it classy. Production started in 1969, with 832 GT-R sedans (via Car and Driver). Nissan then built approximately 1,115 two-door models from 1970 to '72 (per RM Sotheby's).
The S20 2.0-liter straight six power Skyline was quite advanced for the time, with dual overhead camshafts and triple side-draft carburetors. The engine revved up to an impressive 7,000 RPM, making 160 horsepower in the process. This lively engine was perfectly mated to the 2,500-pound lightweight chassis of the C10, and the combo managed several dozen racing victories throughout Japan.
Nowadays, Hakosuka Skylines are highly coveted. Even clones and non-GT-R models can get quite expensive. Clean examples frequently fetch over $100,000, and the sky is basically the limit if you want one in perfect condition (via Classic.com).
Honorable Mention: R33 GT-R Sedan
For many years, the C10 Hakosuka remained the only GT-R made with four doors. Nissan decided to change that in 1998, as a sort of celebration for the Skyline's 40th anniversary. The company contracted a tuning shop under its ownership, called Autech, to produce 400 special edition GT-R sedans, based on the contemporary R33 generation. The resulting car retained the longer wheelbase and overall length of the four-door Skyline, with the wide fenders and front fascia of the GT-R. Amusingly, the rear box flare encroaches on the passenger doors of the sedan, meaning that Autech must have designed custom doors specifically for this car. The shop also chose to leave the rear spoiler off of this R33, giving it a more mature look.
Performance was mostly unchanged from the GT-R coupe, with the same RB26TT rated at 276 horsepower. On the other hand, the extra weight it carries must be detrimental to the R33 generation that was already regarded as "too heavy." On yet another hand, anyone looking to buy a GT-R sedan is probably doing it for the novelty factor, and won't be turning it into a stripped-out track car. This particular car doesn't seem to trade hands very often, so it's hard to nail down a specific market value for it. However, one is currently listed at JDM Expo for $78,500.
R34 Skyline GT-R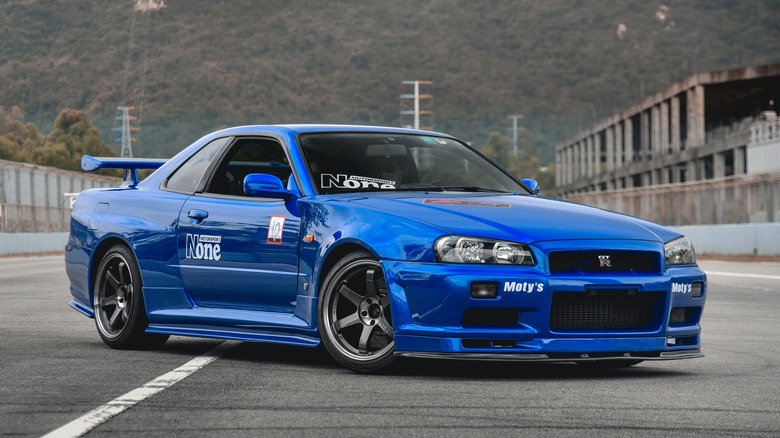 Sport car hub/Shutterstock
Here we have THE quintessential Skyline GT-R. If you mention either of those terms to a layman, they'll probably picture this specific car in Midnight Blue or silver. They probably saw it on the big screen 20 years ago in 2 Fast 2 Furious or caught one of its many appearances in every important racing game since Need for Speed: Underground. Even today the R34 looks like a futuristic spaceship, while still evoking the style of previous Skyline generations. This car took the tune laid down by the Godzilla R32 and cranked the volume up to eleven. Production ran for a short time, from 1998 to 2002.
The RB26 engine remained, this time mated to a six-speed manual. Torque was upped to 289 pound-feet, yet horsepower remained at the rated 276. This was of course a lie. A bit of auto knowledge and some basic math will tell you that the engine was actually making well over 300 horsepower (via Car and Driver). Of course, the actual capabilities of that engine are as limitless as your aftermarket tuning budget will allow.
In 2005, Nismo produced the rarest edition of the GT-R, known as the Z-Tune. It started with factory Skylines, purchased on the used market, and punched out the engines to 2.8 liters. Horsepower was raised to an even 500, with custom carbon fiber bodywork reducing weight, and giving the Z-Tune a new, unique look. Only 20 examples were made.
The R34 Skyline isn't yet legal in the U.S. although a MotoRex did manage to import a few of them back in the day. If you have the chance to buy one, it will be for more than $100,000, and Z-Tunes go for several times that amount (via Top Gear).