Action Camera Body Mount: 9 Ways to Attach an Action Camera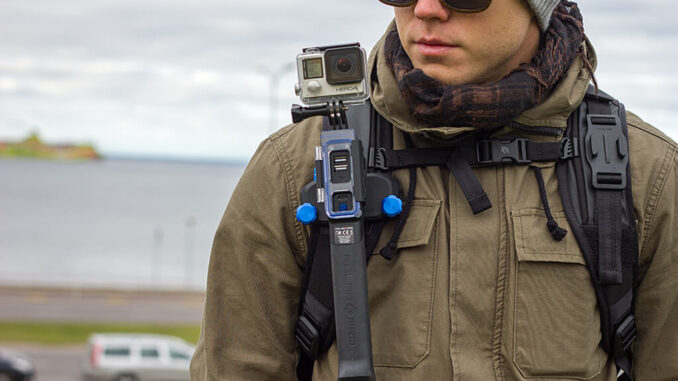 When you want to capture photos and videos while driving, surfing, swimming, or doing water sports, it is impossible to use your hands. At that time, you will need a camera that you can attach to your body, and an action camera body mount can be the perfect choice for you.
An action camera mount helps to stabilize the video recording and save your camera. These all come in various types.
Getting the right angle without injury is tough because, suppose, riding and capturing can be difficult if you are riding a motorbike. Here, the action cameras can be of great use.
The best action camera body mount can be useful for everyone, and if you are a content creator, you surely need this camera. If you love different sports activities, this camera can also be very useful. 
Here, we will tell you ways to attach an action camera to your body.
Top 9 Ways to Attach an Action Camera
1. Head Strap or Head Mount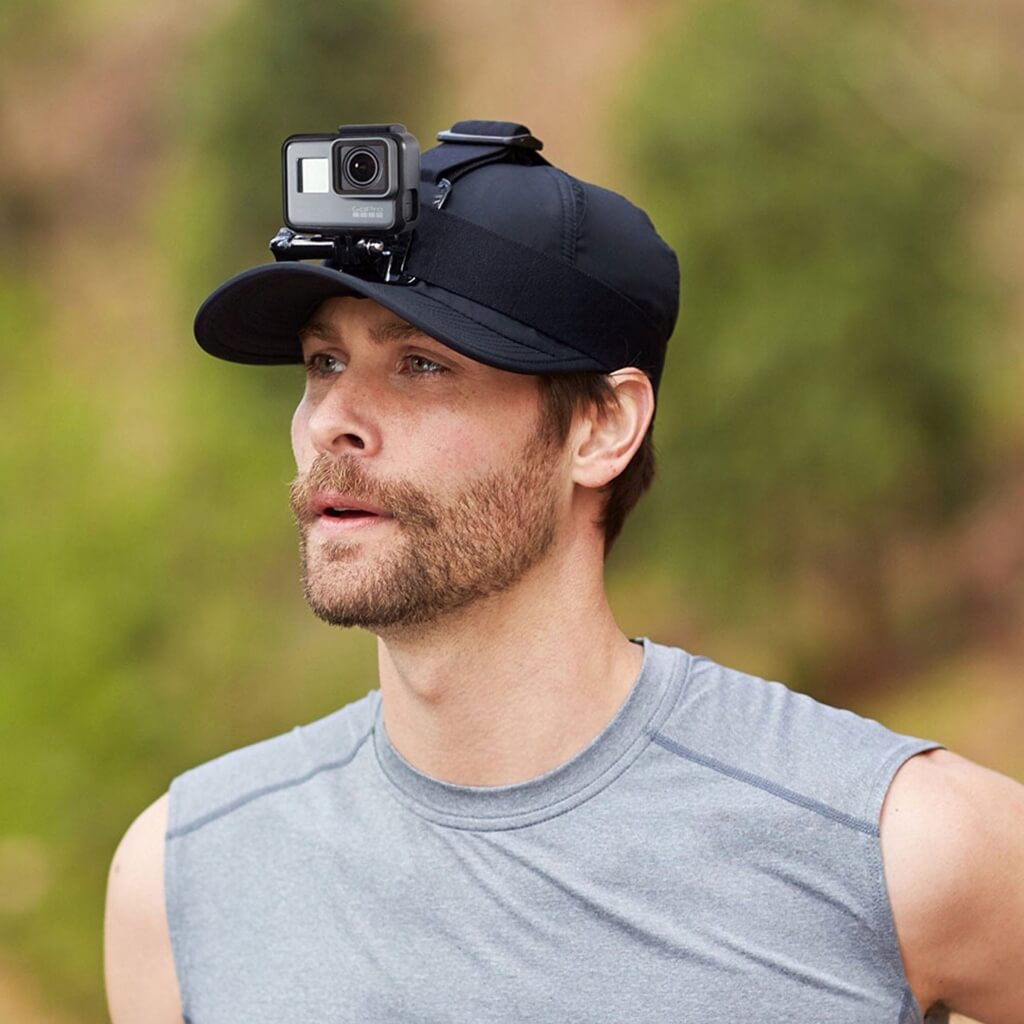 Source: allegroimg.com
An action camera head strap or an action camera head mount is an amazing way to attach your action camera.   If the activity does not need a helmet, using a head strap still allows you to take advantage of the same perspective.
You can buy an action camera head strap with flexible straps that can be adjustable to your comfort. Many brands are selling this product; you can choose the one you like. 
2. Chest Mount Harness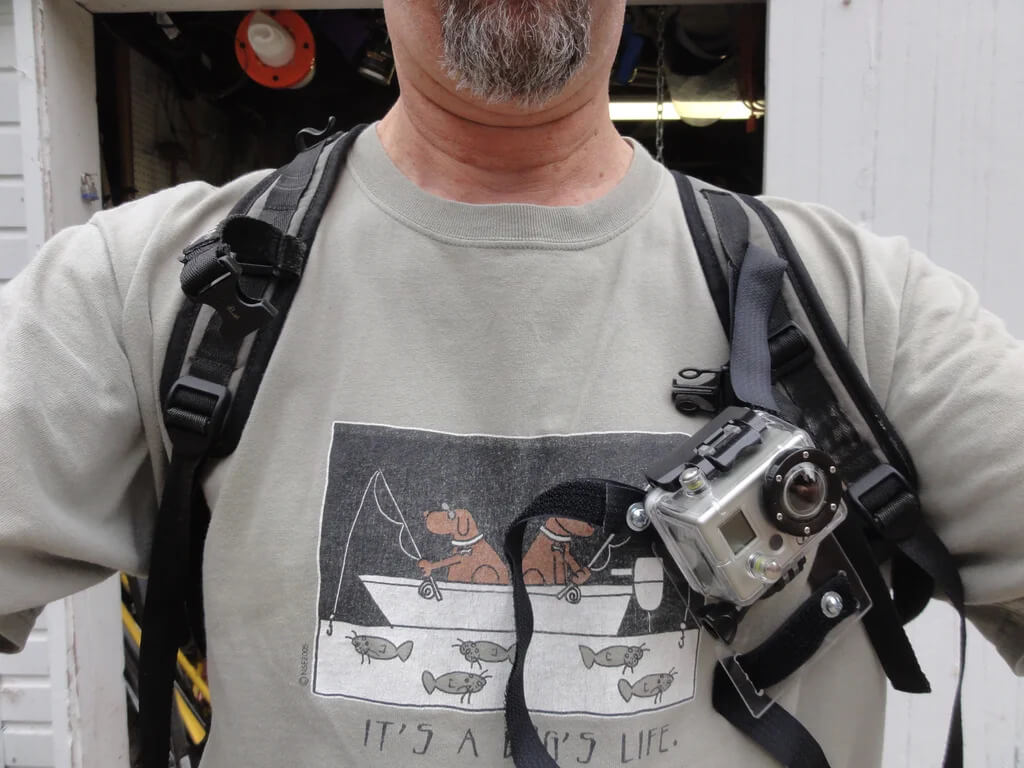 Source: instructables.com
When it comes to the hands-free camera, the chest mount harness is a popular option. One of the benefits of having this action camera chest mount is – stability. It is one of the top benefits of this camera. When you have a chest mount harness, the camera won't move a lot; thus, the quality of the video footage would be the best. 
If we talk about the limitations, there are not many; however, it may not be the right choice for all sports activities as the view may get interrupted by the gears. If you are into water sports, you will need a life jacket, and thus wearing the chest harness will be difficult. 
3. Backpack Mount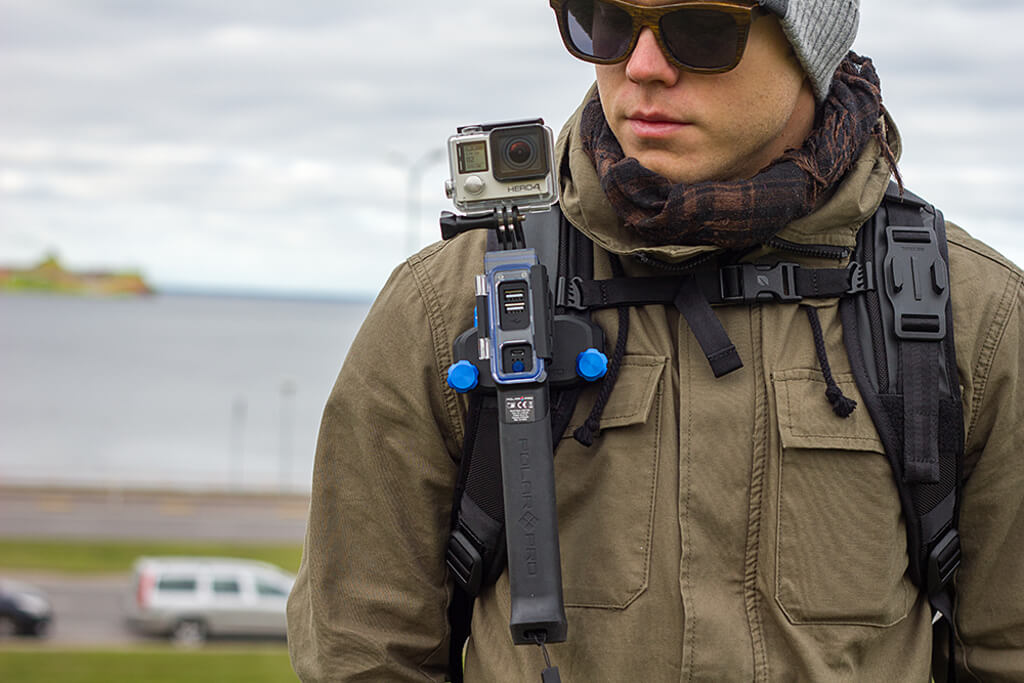 Source: goproessentials.com

The most comfortable way to use your camera is to attach it to the backpack' shoulder strap. You don't need to carry extra mounts or straps when you connect the camera to the bag. 
You may see it from a chest or shoulder mount harness depending on where you attach it.
When you attach the cam on the back side of the bag, then you can also capture whatever is behind you. You can attach a microphone to the other camera strap if you want good audio quality along with the visuals. 
4. Helmet Mount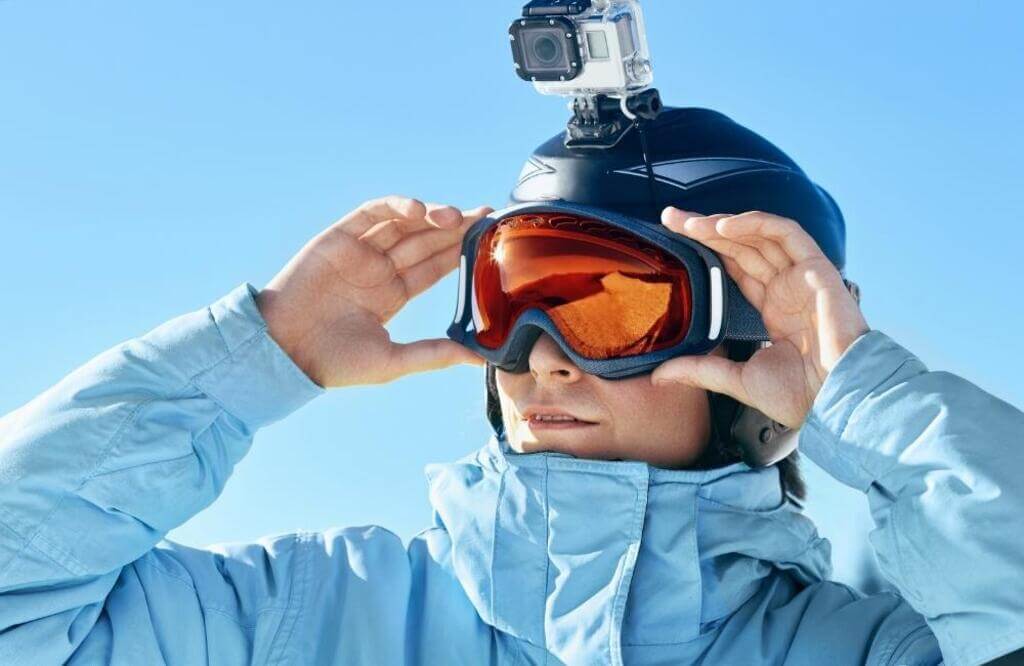 Source: thinkvail.com
Helmets are necessary for numerous extreme sports, and you can use the helmet as the perfect place to attach the action camera. So, you may not need any additional equipment to get some incredible POV footage.
One more crucial benefit of the helmet mount is that you can select any position to adjust the camera's height. You can utilize a strap mount to place the action camera on top, a chin mount, a front-facing head mount, or a side mount. 
Adhesive flat or curved mounts are a flexible choice. Through this, one may change the camera's position on the helmet or even change the helmet as per the sport you are doing. 
A camera on the helmet can provide you with the best footage. This footage shows the viewers see exactly what you saw and what you want to make them see. 
5. Mask Mount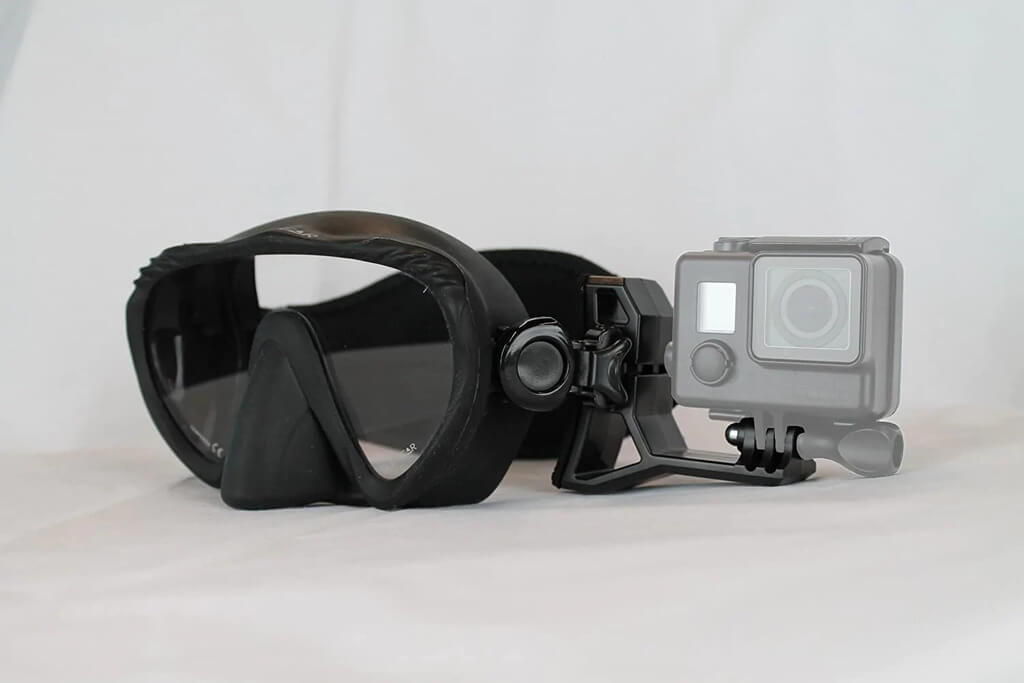 Source: shopify.com
You can't take the body mount under the water; it will be difficult because you have special suits and oxygen tanks on your back. In such situations, a mask mount is a perfect solution; you can bring the action camera to the diving adventures. Mask mount is a lot popular in scuba diving activities. 
In many sports or situations, a mask mount is much better than a head mount. You can get the action camera closer to the eyes through an action camera. 
6. Magnetic Mount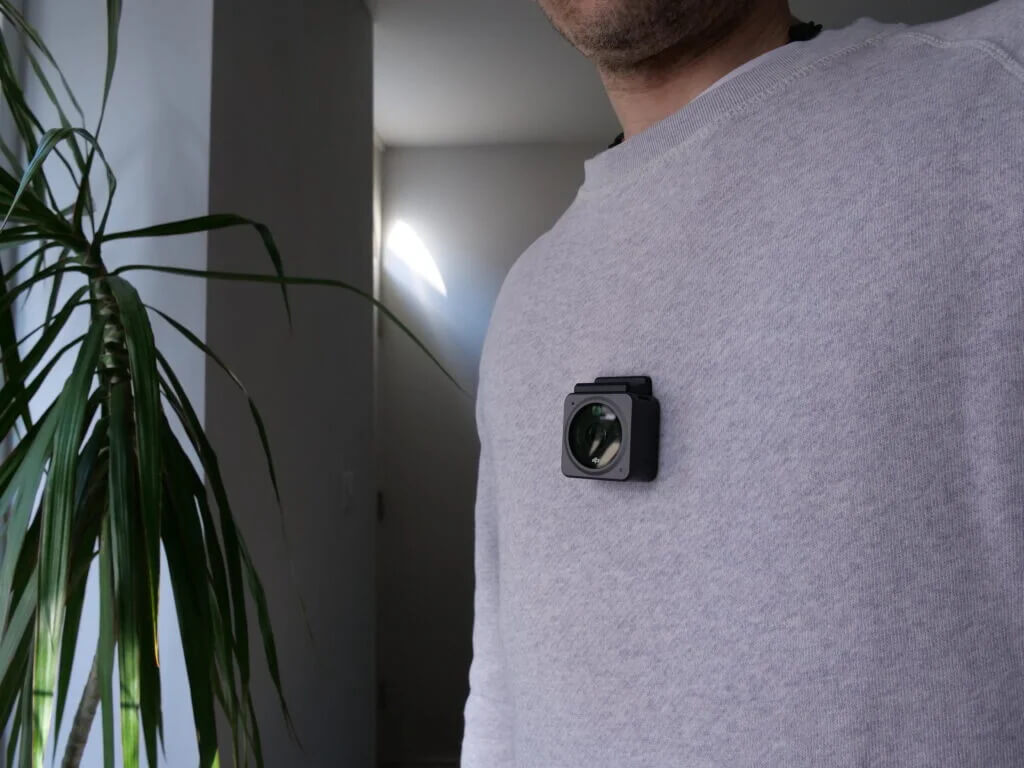 Source: trustedreviews.com
A magnetic mount is one of the most flexible camera mounts out there. It has 2 magnetic parts that help you use your camera on the clothes, baseball cap, and many other things. 
The user can easily change the angle view of the video and provide the space for any flashlight you may have attached to the action camera.           
The magnetic mount is easy to wear; one can wear it while riding, biking, climbing, and many other adventurous activities. 
Many brands are selling magnetic mounts; you can buy the brand you wish. While buying the mount, just make sure that it is light in weight and that the magnets are strong enough to support the action camera. 
7. Use Hand and Wrists Mounts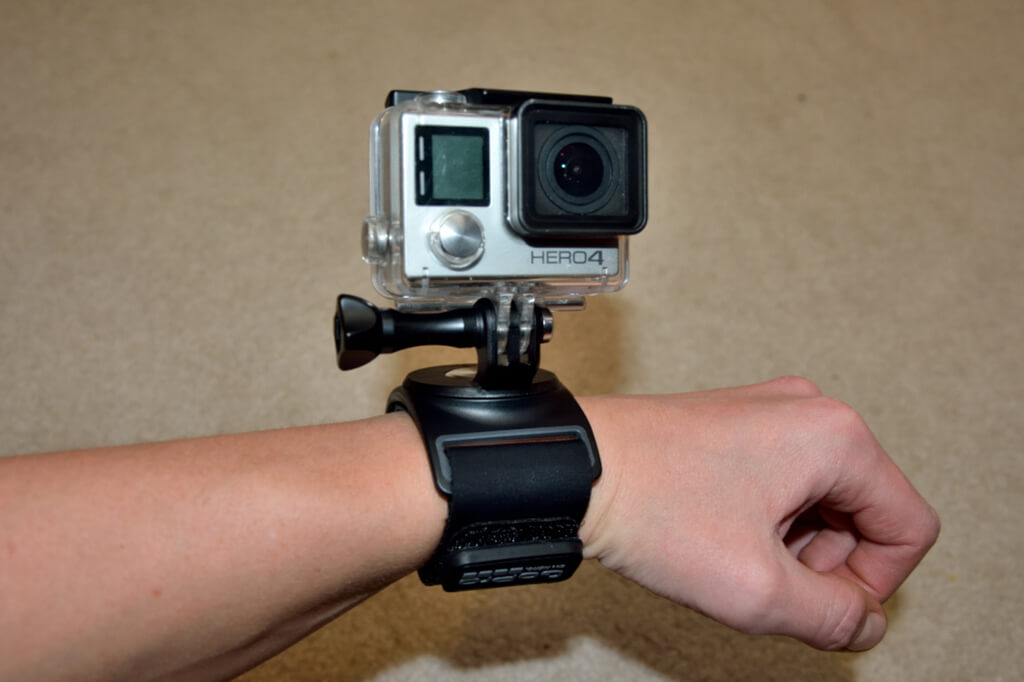 Source: filmingfamily.com
One another way to attach the action camera is by using the hand and wrists mounts. There are ones that are floating, revolving, have changeable bands, and have many other features.
The mounts make it easy to adjust the camera settings even while shooting. You need to wear this on your non-dominant hand to make the adjustments easily. The mounts also have a 360-degree rotating platform so that you can make it a selfie camera with a quick turn. 
Through hand wrist mount, you can go diving, catch all the beauty in the camera, and keep it as a lovely memory. So, you can rely on an action camera body mount when it comes to capturing high-quality pictures and videos.
8. The Bite Mounts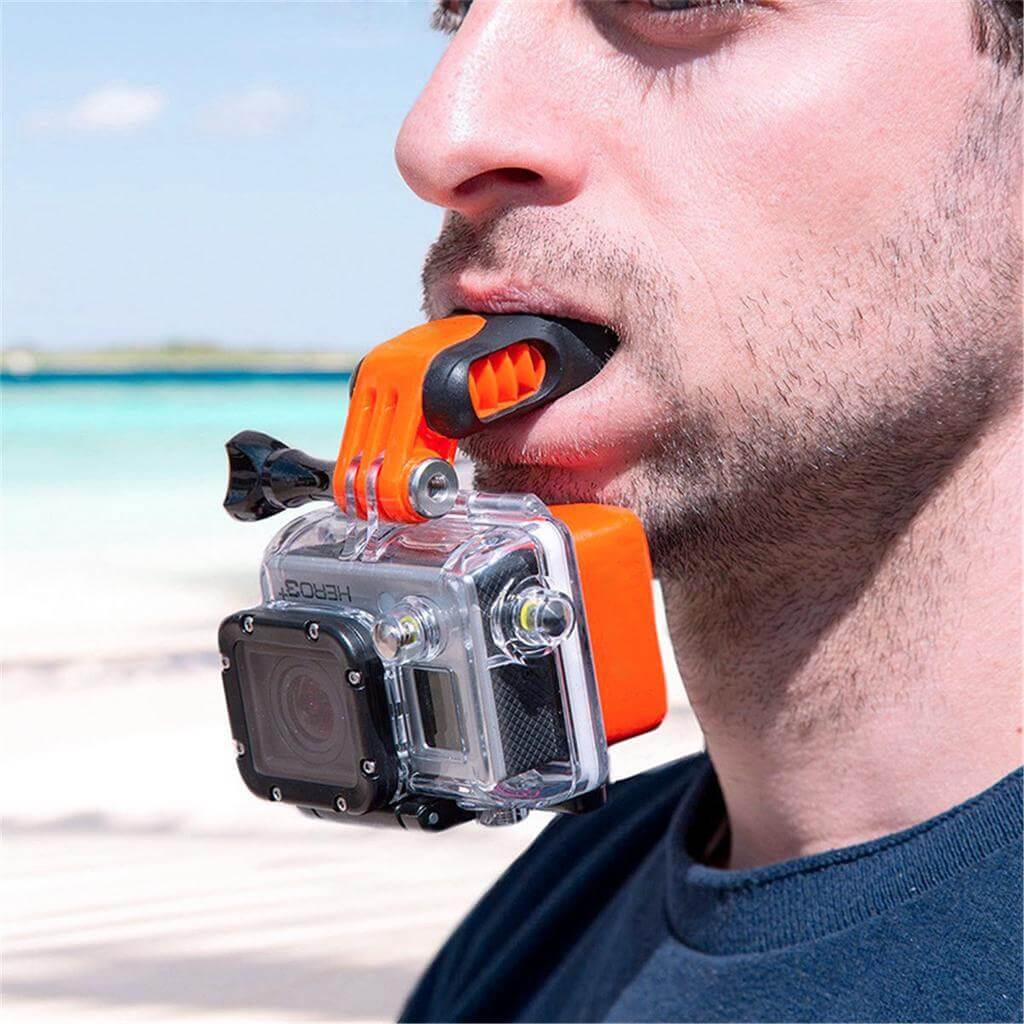 Source: joomcdn.net
In the bite mount, the person has to put the camera in the mouth and bite it strongly, so it does not fall. It is popular among people who are into surfing and skydiving. 
If the surfer falls victim to a huge wave as it breaks while in the water, a floaty attachment can help the camera float. 
Some people may find it difficult to bite the camera, but once you do it, you will get habitual to it. And as the camera is lightweight, you will be habitual once you start using it. 
Also Read: 7 Best Action Camera Flashlight That You'll Love to Buy
9. Board Mount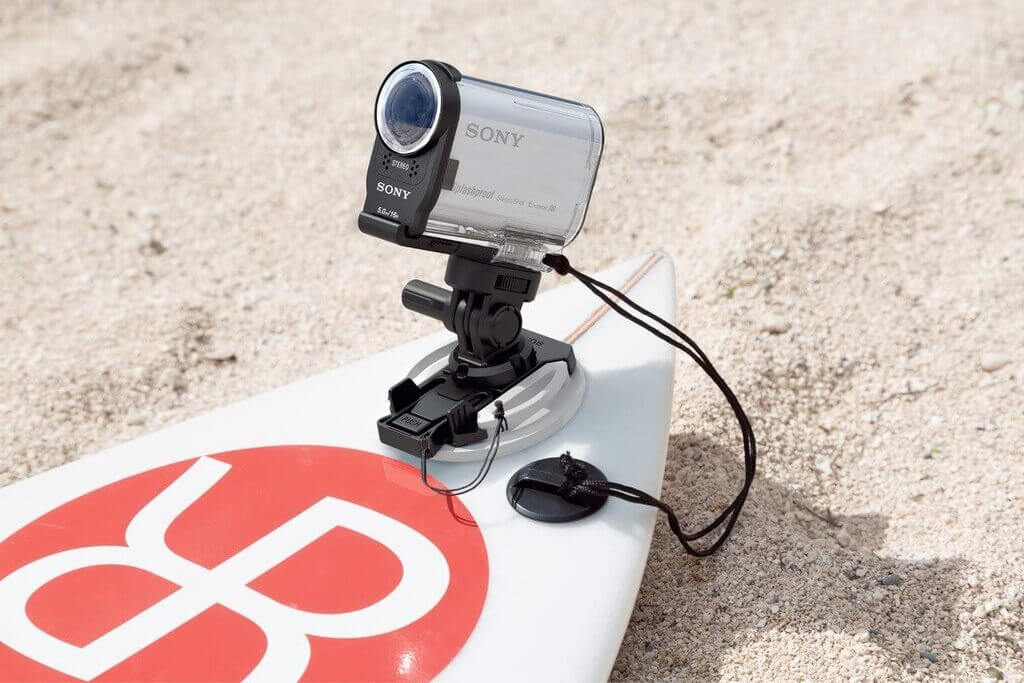 Source: amazon.com
In many activities, people need a board, and a board can be a good place to mount your action camera. You can attach the camera to the surfboard, snowboard, or other such boards. 
Board mounts generally use strong adhesives that will make your action camera stable despite a heavy impact. You only need to ensure that if you are using the camera on the board that will be used in the water, then get a waterproof camera. 
Final Thoughts
At last, we would say that an action camera body mount is useful for many visuals of sports and adventurous activities. Many people in these activities use an action camera to record pictures and videos. 
While doing the activities, you cannot do the activity and hold the camera simultaneously because if you try to do both things together, you won't be able to do even one properly. In these situations, using mounts or attaching the action camera to the body and accessories can be the best way to perform the activity and capture all the beautiful visuals. 
For more information, visit Technograph x .